WMBF (short for Witryna Maniaków BrickFilmingu), also referred to as WMBF Animation Maniacs, was a Polish-language brickfilming website. It was founded in 2010 by Maciek "Sshadow" Klimczak and Samuel "Sqeverek" Syrecki.
History
[
]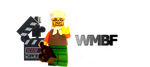 The site was lauched in 2010, initially under the name SERIALEGO, before being renamed WMBF.[2] It was founded by Maciek Klimczak and Samuel "Sqeverek" Syrecki to serve as a meeting place for Polish brickfilmers.[3] The current version of the site and name has been in use since 2012 (with minor changes in 2016). Paweł Kamiński became an admin of the site along with the 2012 redesign, and "CrazyEd" was a moderator of the site.
WMBF was briefly closed in early 2017 following a spam attack and a hack of their YouTube channel which led to its deletion,[4] The site came back online, but only for archival purposes. It went offline again in January 2018, but later reappeared in what appears to be an in-development state.
Features and events
[
]
WMBF's primary feature was its forum, which was the main hub of the Polish brickfilming community. It also has a collection of brickfilming tutorials. Additionally, there were three major site-run events. The Wakacyjny Konkurs WMBF was an annual brickfilming competition held every summer on the site. An annual awards ceremony was held to award the best brickfilms released on the site in the previous year. There was also a series of month-long mini-contests called SHORT.
References
[
]