The TTC Contest
The logo of the Theora codec
Host(s)
Location
Start Date
December 17, 2006
End Date
May 12, 2007
Entries

6

Winner(s)
The TTC Contest was a brickfilming competition run by Saul Goode and Pat "Eventide" Mahoney between 2006 and 2007 on the Brickfilms.com forums. Its intention was to promote the use of the Theora video codec in the brickfilming community as an open-source alternative to the various proprietary codecs in common use at the time.[1] Entries were required to be released exclusively in this format for the duration of the contest.
The contest was first announced by Saul Goode on December 17, 2006.[2] It called for entries to be released exclusively in Theora format until judging had completed. Trailers for entries were permitted to be released in any format. There was no theme required of the films themselves. The use of existing intellectual property was permitted, though original work was encouraged. The original deadline of the contest was May 5, 2007. This was later extended to May 12.[3] The contest received six entries.[4]
Judging of the contest was handled by Pat Mahoney.[5] It was judged by a panel of around five to ten people. Emphasis was placed on storytelling in the judging, but a rigid marking scheme was not employed. Secondary criteria to be considered were animation, cinematography, sound, and music.[6] The results were posted on May 26, 2007.[7]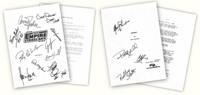 Prizes were offered for the top two placing entries. The first place winner would have first pick of the two prizes, with second place receiving the remaining one. The two prizes were a final draft script of the film The Empire Strikes Back autographed by George Lucas, Mark Hamill, Harrison Ford, Carrie Fisher, Alec Guinness, Frank Oz, Kenny Baker, Billy Dee Williams, Peter Mayhew, David Prowse, and George Hull and a revised, first draft script of the film Gladiator autographed by Ridley Scott, Russell Crowe, Joaquin Phoenix, and Connie Nielson.[8]
List of all entries:
Community content is available under
CC-BY-SA
unless otherwise noted.