The Superhero
The Superhero himself
Watch now

➤

Directed by

Ben Vomastek

Released
December 19, 2010
Starring
Genre

Action

Running time

0:50

Language
English
Created for
The Superhero is a 2010 comedy brickfilm by Ben "legostudiosplus" Vomastek about a man with an ambition to become a superhero. The film was a notable entry to the eighth Twenty-four Hour Animation Contest due to the line "no crime broke out" pronounced as "no crawme broke out" by Sean Carroll's character of the Sheriff. This line has led to The Superhero gaining a cult following and seeing many references within the brickfilming community, as well as the creation of a number of parody and spin-off films.[1]
"No crawme broke out"
- Sean Carroll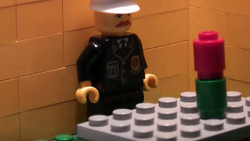 The film's protagonist's life long ambition is to become a superhero and he has just been given the job by the Sheriff. After receiving no calls from the sheriff the Superhero visits the police station to check up on him. The Sheriff has his gun raised for some reason and promises to phone the Superhero that evening.
However after 10 hours the Superhero has not received a single call from the Sheriff and returns to the police station to complain. The Sheriff declares that "no crawme broke out".
After 3 weeks the Superhero is depressed because he has still received no calls but then the phone rings. The Superhero rides on his skateboard and a father and son are leaving somewhere together. An assassin shoots the Superhero but then Robin appears and shoots the assassin. The Superhero thanks Robin for saving his life.
The motive of the assassin and the importance of the father and son are unclear and likewise the reason behind Robin's appearance in the film is a mystery.
Sam "2887sally" Bennet as Superhero
Sean Carroll as Sheriff
Ben "legostudiosplus" Vomastek as Little Kid
T. Vomastek as Dad
Max Butcher as Criminal
"Darkkoopa23" as Robin
The Superhero and in particular the line "no crawme broke out" has been referenced in a number of brickfilms and generally in the brickfilming community,[2][3] predominantly in entries to subsequent THACs. These include Sean Carroll's THAC 10 entry[4] and a duo of musical brickfilms by Sean Warton and Andy Stein featuring a character called "No Crawme": No Crawme's Sing Along THAC and No Crawme Steals Christmas.[5] Sean Carroll has reprised the role of the Sheriff for parody films on multiple occasions.[6][7]
Additionally, the entire style of The Superhero with its usage of a number of jump edits, orange Windows Movie Maker titles and multiple aspect ratios was parodied in the joke sequel The Superhero 2 by Max Butcher.
To celebrate the tenth anniversary of The Superhero, a parody tribute The Superhero 10 was released in December 2020 by Jonathan Mangiapane.
Community content is available under
CC-BY-SA
unless otherwise noted.