The Mysterious Secret

Treasure of the Lost Pyramid

The SuperNerds arrive looking for treasure
Watch now

➤

Directed by
Released
Genre

Adventure

Running time

4:23

Language
None
The Mysterious Secret Treasure of the Lost Pyramid, or How Groovy G Got His Hat, is a 1999 adventure brickfilm by Greg Perry. It follows the four SuperNerds as they uncover secrets of a lost pyramid in search of treasure. It is the second film by Perry to star the SuperNerds and is set before the first, The Hei$t.[1][2]
In 2000, a truncated version of The Mysterious Secret Treasure of the Lost Pyramid became one of the grand prize winners in the LEGO Maniac's Coolest Home Video Contest.
The four SuperNerds arrive at a lost pyramid, after following a treasure map. They pull a lever at the base of the pyramid and the top of it opens, whereupon a chamber rises up out of it. Three skeletons in top hats emerge and dance their way down the pyramid. At the bottom, they remove their hats and produce knives from them to attack with. The SuperNerds defeat the skeletons using pickaxes and a shovel, when the chamber sinks back into the pyramid and the top closes. They pull the lever again and this time, a sphinx-shaped treasure chest rises out on a platform.
Two of the gang fetch the chest from the top of the pyramid, and one of them breaks the top off it, revealing the treasure inside. They all load up their cars and begin to leave, but one of them, Rev. Groovy G, stops and gets out. He swaps his explorer hat for one of the skeleton's top hats on the ground before heading off again. A monkey arrives and takes one of the other top hats.
The LEGO Maniac's Coolest Home Video Contest
Edit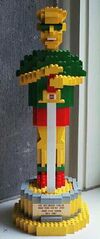 In Spring 2000, The LEGO Group hosted the LEGO Maniac's Coolest Home Video Contest; a contest for videos of entrants' coolest LEGO creation (not necessarily animated). Greg Perry submitted four brickfilms to the contest, including The Mysterious Secret Treasure of the Lost Pyramid.[3]
As the contest had a time limit of two minutes, Perry only submitted the first two minutes of the film, but it still went on to become one of the three grand prize winners of the contest. This won him an all-expenses-paid trip for four to the "LEGO Maniac Kidvention" at LEGOLAND California in July 2000, where he was also presented with a LEGO trophy. The film, as well as those by the other winners and finalists, were shown at the park throughout the convention.[4]
References
Edit
Community content is available under
CC-BY-SA
unless otherwise noted.