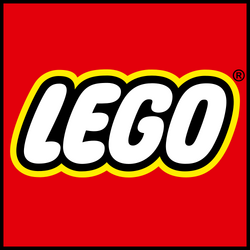 The LEGO Group, often abbreviated as TLG, and also known as The LEGO Company or simply "LEGO", is a Danish toy company best known for manufacturing LEGO-brand building toys. More general information about The LEGO Group can be found on its corresponding Wikipedia page.
Early Friction with Brickfilming Hobbyists
Edit
Initially, The LEGO Group was notoriously wary of people using LEGO to make movies. In 1989, Lindsay Fleay created brickfilm The Magic Portal and was planning on entering The Magic Portal into multiple film festivals and competitions. The LEGO Group demanded Fleay "surrender all copies of the film and everything with it to us in seven days.". Fleay disregarded the deadline, sent them a copy of the film instead, and waited. A month of complete silence passed before he received a complete legal backdown.[1]
The LEGO Group was especially wary of brickfilms that featured mature adult situations, as they were worried it would tarnish the brand of their child-focused toys. Rick and Steve received significant negative media attion, eventually leading to The LEGO Group demanding Q. Allan Brocka take the films and all images of them off the internet.[2]. The brickfilm Girl also received similar negative media attention, but the The LEGO Group ultimately refrained from pursuing legal action[3].
LEGO Studios
Edit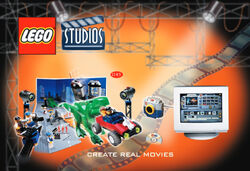 Main Article: LEGO Studios
In 2000, The LEGO Group launched the LEGO Studios line that ran for two years until 2002. The flagship set, 1349 LEGO Studios Steven Spielberg MovieMaker Set, including a special LEGO webcam and proprietary software that included stop-motion capture, timeline editing, and sound recording and editing. LEGO Studios was instrumental in popularizing the hobby of brickfilming.
Embracing Brickfilming
Edit
After the launch of LEGO Studios and the rise of brickfilming sites like Brickfilms.com, The LEGO Group slowly began to soften its view on brickfilms. From 2001 to 2004, The LEGO Group worked with Tony Mines and Tim Drage of Spite Your Face Productions to create a series of promotional brickfilms including Monty Python and the Holy Grail in LEGO and The Peril of Doc Ock.
In 2008, The LEGO Company reached out to David Pagano, Nathan Wells, and Nate Burr to create several brickfilms to celebrate the 30th anniversary of the LEGO Minifigure, and this began a long professional relationship between The LEGO Company and David Pagano, resulting in Space Police series, Cool Creations with Flappy series, and more.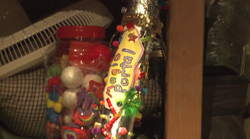 Ultimately, the unique visual style of stop-motion that is central to brickfilming was influential to the visual style of the CGI feature-length The LEGO Movie. The LEGO Movie also briefly featured brickfilms made by fans, and included an homage to the brickfilm The Magic Portal[4].
Brickfilms as Promotional Material
Edit
References
Edit
Community content is available under
CC-BY-SA
unless otherwise noted.