The Ten Lines Contest was a brickfilming contest hosted by Joshua Leasure on Brickfilms.com between 2005 and 2006.[1] The aim of the contest was to create a brickfilm including ten lines of dialogue from a given pool of 30. It was an official Brickfilms.com "mini-contest", and occurred between the major contests Heroes and Villains Contest and Fame, Infamy and Glory Contest.
A second edition of the Ten Lines Contest was hosted by Jonni Phillips between 2011 and 2012 on Bricks in Motion.
The contest was announced as coming soon by Joshua Leasure on the 23rd of November 2005.[2] The same day, he posted a thread in which members could submit possible lines for the contest.[3] The original intention was for the contest to have a pool of 20 lines where members would have to produce a film incorporating between ten and twenty of them, with no other dialogue. This format was changed before the contest began to permit other dialogue. The pool of lines was also extended to 30 due to the large quantity of suggested lines.
| Suggested by | The Lines |
| --- | --- |
| Freddy "MB" Vinehill-Cliffe | I'm telling my mummy what you did. |
| James Morr | I hope you kept the receipt. |
| Scott Dombert | Well, let's face it. We're lost. |
| Scott Dombert | Now this is something you don't normally see on a Sunday. |
| Jay Silver | You're very clever, young man. |
| Jay Silver | It wasn't supposed to explode that much. |
| Jay Silver | It's at least a hundred years old. |
| Jay Silver | Of course, it's a whole different thing after dark. |
| Jay Silver | And now for a refreshing beverage. |
| Jonathan Schlaepfer | I'm not gonna tell you if you don't know. |
| Matthew Gray | I pushed it real hard and it got stuck. |
| Daniel "Mr. Less" Ernst | I hope that you don't underestimate me. |
| Judah Frank | Hello. I see you are wearing a new hat. |
| Brendan Henry | I'm gonna snap, crackle and pop my way out of here, and you're not going to stop me. |
| J. Watson | Nice to meet you. Good luck with your head. |
| Day Clancy | I feel compelled to read short fiction. |
| Nathan Wells | That's gonna need a coat of paint. |
| Lewis Chen | I don't blog. I animate. |
| Stefan van Zwam | Definitely not more than 2. |
| Zach Macias | I'll edit it in Photoshop. |
| Skye "legotronn" Sonomura | I can stop any time I want! |
| Skye "legotronn" Sonomura | Did you see that? I flew! |
| Freddy "MB" Vinehill-Cliffe | Having fun isn't hard when you have a library card. |
| Day Clancy | We had spaghetti at our house three times this week. |
| Matthew Gray | You will pay for your dishonorable actions! |
| Saul Goode | It probably prevented something worse happening. |
| Stefan van Zwam | That's how I became the proud owner of this beauty. |
| Richard Frost | Well, what would you have done with it? |
| Jay Silver | Of course, love is the greatest power in the universe. |
| Skye "legotronn" Sonomura | We must act like a normal family. |
Leasure announced the beginning of the contest with the 30 selected lines on November 27, 2005, referring to it as "the next Brickfilms mini-contest". Entrants had to make a film incorporating at least ten of the 30 lines, and were allowed to include other dialogue as well. The winners would be chosen through a top 3 ballot from each entrant and from any patron 24fps or higher who submitted a ballot.[4]
Following a small deadline extension, the contest concluded on January 12, 2006, receiving 11 entries.
The Ten Lines Contest 2012
[
edit
|
edit source
]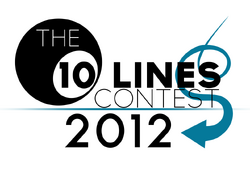 The Ten Lines Contest concept was reprised by Jonni Phillips in 2011 on the Bricks in Motion forums.[5] The Ten Lines Contest 2012 started on December 26, 2011 and once again included a pool of 30 lines to choose from.[6] The original deadline was January 9, 2012, but this was later extended to January 16.[7] The contest received six entries[8] and was judged by Phillips, Harry Bossert, Aaron Bulger, and Graeme Allen. First place was the only winner to receive a prize and was offered a choice between one of the LEGO sets 3178 Seaplane, 7279 Police Minifigure Collection or 4436 Patrol Car.[9]
The Lines
It runs in the family.
I don't really wanna talk about it.
Let me show you how a real woman does it.
And I will rule the world!
This couldn't happen to just anybody!
I have exactly zero faith in you.
Well… okay, I suppose we could just go with that.
A little more to the right.
I can't believe I'm doing this.
No, no… THIS is how you shave a cat.
Relax, I'm just going to mail a letter.
It'll work, just give it time.
What a dastardly deed!
Well, not 'borrowed' per se…
What does that button do?
I'm telling dad!
Oh no, here comes the train!
That's enough hitchhiking for one day.
Enough chit-chat, let's boogie!
Pfff, like that will ever happen!
Too many potatoes!
My eyes!
I can see my house from here!
Stop looking at me like that, I didn't do it!
That's enough food for you, young man!
Am I supposed to learn some kind of moral from this?
I'm sick and tired of avalanches!
I can see you over there!
What a plot twist!
You'll never catch me alive!
The other entries were My Family and Friends X by "KTproductions121" and Hero by Funmi Adetola.
Community content is available under
CC-BY-SA
unless otherwise noted.