Seventy-two Hour Animation Contest
The logo of SHAC 2
Type

Annual competition

Hosts
Location
Years Active

2018 - Present
The Seventy-two Hour Animation Contest, commonly abbreviated to SHAC, is an annual brickfilming contest with a time limit of exactly 72 hours. Similar to the Twenty-four Hour Animation Contest and Brickfilm Rapidly All Week Long Contest, participants must create an entire brickfilm from scratch within 72 hours. The contest has been hosted by Dylan Johnson and "The Login Productions" since its inception.
The Seventy-two Hour Animation Contest originated from a concept for another time-based brickfilming competition by Dylan Johnson. The concept, initially proposed in 2014, was for a contest in between the lengths of THAC and BRAWL, originally to take place in the fall; as their hadn't been a brickfilming contest held during those months for a few years.
Originally to be titled the "Weekend Animation Contest," or "WAM!", the title was changed after a humorous suggestion from Dylan Woodley to name the contest after Shaquille O'Neal, as the abbreviation for Seventy-Two Hour Animation Contest was SHAC; very similar to O'Neal's nickname, "Shaq."
The idea was shelved for a few years. Dylan Johnson eventually decided to bring it back after having missed THAC XV due to being on vacation, and longing for another contest to fill the void of the discontinued EASTER Contest. The first Seventy-two Hour Animation Contest was announced with Dylan Johnson and The Login Productions as hosts on February 3, 2018.[1]
The first SHAC
Edit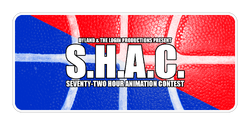 The first SHAC was held on Bricks in Motion and Brick à Brack from March 2 - 5, 2018.[2] However, the contest was extended by nearly an hour to allow for an entrant who's film had gotten stuck in rendering to still be eligible to enter.
Theme: Compromise
Color Mod: Black & White
Letter Mod: X
Sound Mod: Gong Hit B
All 17 entries submitted were accepted, and they were judged through Instant Runoff Voting. Prizes were provided by Dylan Johnson, and the judges were Dylan Johnson, The Login Productions, One Brick Shy, Shelby Pritchard, and Nate Swihart.
A fourth, random-draw prize was announced along with the results on March 24, 2018.[3][4]
The SHAC contest returned the next year, and ran from March 8 - 11, 2019.[5] The color mod, light or dark tan brick connected to a sand-shaded brick, was found as confusing by some, and so the mod elements were considered loosely, as not to unfairly disadvantage any of the entrants.
Theme: Surface
Color Mod: Tan & Sand
Number Mod: 2
Sound Mod: Beast footstep
Overall, it received 25 entries[6], all of which were accepted.
Another random draw was held along with the full results announcement on March 30, 2019.[7][8]
References
Edit
Community content is available under
CC-BY-SA
unless otherwise noted.