Scary Thriller

The monster is brought to life

Watch now

➤

Directed by
Released
Genre

Horror

Running time

2:23
2:28 (Directors' cut)

Language
Created for
Scary Thriller is a 2002 horror brickfilm by Tony Mines and Tim Drage of Spite Your Face Productions.[1][2] It was created for The LEGO Group and, along with two versions of a short Spiderman brickfilm by Mines and Drage, featured on the LEGO Studios SoundFx CD-ROM, included in the LEGO sets 1376 Spider-Man Action Studio[3] and 1382 Scary Laboratory.[4] It was also available on the LEGO Studios website.
A mad scientist and his assistant hook a Frankenstein's monster up to a machine to reanimate it. The assistant throws a switch, and electricity shoots into the monster. Meanwhile, a man on the side of a road is attempting to hitchhike. A car approaches, but the couple in it decide to not pick the man up. He becomes enraged and, with a flash of lightning, turns into a werewolf.
The couples' car breaks down outside a large gate to a castle. As the man tries to fix the car, walking skeletons emerge from behind trees, and the terrified couple flee to the castle door. They door opens and they enter, only to find a vampire and a mummy emerging from coffins. The monsters approach, but walk past the couple and greet the skeletons coming in the door.
The couple and the monsters congregate to see an unveiling by the mad scientist. He pulls a cloth off his Frankenstein's monster, who begins to dance. The werewolf enters the castle, as everyone has a dance party.[2]
Directors' cut
Edit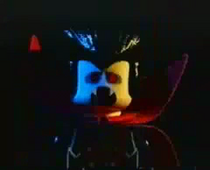 For Halloween in 2002, an earlier version of Scary Thriller was shared on the LEGO Studios website.[5] This version was initially rejected as it was deemed to be too scary. This directors' cut is basically a different film as it is made of almost entirely different footage. Most of the shots that were retained are different takes with darker lighting in this version, and the events of the second half of the film are completely different in the later version.[6] The directors' cut was considered to be a superior film by members of the brickfilming community.[7]
References
Edit
Community content is available under
CC-BY-SA
unless otherwise noted.