We're Getting Mutants in the MCU - The Loop
Play Sound
Rick & Steve: The Happiest Gay Couple in All the World is a series of brickfilms created by Q. Allan Brocka. It follows gay couple Rick and Steve as well as their friends, lesbian couple Dana and Kirsten who wish to have a baby, and gay couple Chuck and Evan who have a troubled relationship.
Rick & Steve are some of the earlier examples of treating brickfilming as more legitimate short filmmaking, finding success on the festival circuit and receiving funding from Hypnotic.com. The series was also highly controversial and eventually removed from the internet following The LEGO Group threatening legal action. It was later adapted into a television series with the same name and using original model designs, making it a rare example of a brickfilm adapted into a TV show.
Films
These films are presented for historical purposes only. Please note they are not suitable for people under 18.

Episode 1: Cum & Quiche (1999)
Dana and Kirsten enlist the help of Rick and Steve in order to conceive a child.
Episode 2: Scary Straight People (2000)
Steve's religious parents come to visit, and Rick and Steve pretend to be straight roommates.
Episode 3: Potty Mouth Training (2000)
Dana and Kirsten come over with a baby they are looking after.
Episode 4: Menage a Twat (2000)
Rick and Steve search for a participant for a threesome.
Cast
Terence McFarland as Rick
Christopher R. Joyce as Steve
Misti Chamkunthod as Dana
Adrienne Pearson as Kirsten
Shaughn Buchholz as Chuck
John-Scott Martinez as Evan
Jessica Erker as Pussy
Guinevere Turner as Chastity Bono, Echinacea, Camille Paglia
RuPaul Charles as Daryl.com
Crew
Q. Allan Brocka - Creator, Writer, Director, Producer, Sets, Animator, Editor
Dominik Hauser - Original score
Astra Price - Digital camera
Sally Brockington - Editing facilities, Stills photographer
Aaron Johnson - Dialog recorder (Episode 1)
Four Media Company - Digital to film transfer
Hypnotic.com - Executive producer
Mike Enright - Animator
Nathan Crow - Dialog recorder
John Mark - "Love Theme for Three" vocals
Jonathan Covert, Nicole Panter, Dale Wilson, Thom Andersen, Nancy Buchanan, Wendy Apple, Victor Simpkins, Echo Post, Coral Susan Brocka, Cal Arts, Craig Martin, Lisa Lindo Lieblein, Rosita Brocka, Marsha Enright, World of Wonder, Jeremy Troy, Astra Price, Sally Brockington, Dustin Woehrmann, Jessica Erker, George Weatherford - Special thanks
Awards
The Rick & Steve films were selected for over 150 film festivals across many countries, including Sundance Film Festival and Spike and Mike's Festival of Animation. They received many awards, some of which include:[1][2][3][4]
Year
Competition
Category
Result
1999
Outfest Los Angeles
Audience Award
Won
2000
Boston Underground Film Festival
Best Animated Film
Won
Seattle International Film Festival
Best Short Film (Audience Choice)
Second place
North Carolina Gay and Lesbian Film Festival
Emerging Filmmaker Award
Won
Philadelphia International Gay and Lesbian Film Festival
Short Film Audience Award
Won
Palm Springs International Short Film Festival
Audience Favorite
Won
Rhode Island International Film Festival
Grand Prize for Best Animation
Won
2001
New York Gay and Lesbian Film Festival
Audience Award for Best Short
Won
Palm Springs International Short Film Festival
Jury Award
Won
Controversy
Due to their very racy humor and adult subject matter depicted with LEGO, the Rick & Steve films became some of the most controversial brickfilms. With brickfilming being an emerging medium online at the start of the 2000s, a number of news reports were made on the medium, and it was common that they would make mention of Rick & Steve and its controversial content. The films were reported on in outlets such as The New York Times,[5] Deutsche Welle,[6] Spiegel Online,[7] and on Danish TV news.[8] With the films' profile rising through festival appearances and media attention, eventually The LEGO Group pursued Brocka and had him take the films and all images of them off the internet.[9]

Rick & Steve was also controversial in the early brickfilming community, with members disagreeing on whether or not it should be acceptable for its content to be depicted using LEGO. Jason Rowoldt ran a poll asking if Rick & Steve should be removed from the Brickfilms.com directory.[10] Later, when the films had been removed from the internet, they became desirable rarities, and the film files were passed around semi-privately by community members.[11][12]
Television series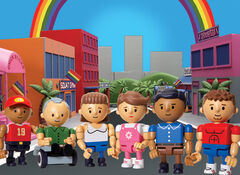 Wikipedia article: Rick & Steve: The Happiest Gay Couple in All the World
Rick & Steve: The Happiest Gay Couple in All the World was adapted into a television show on the LGBT focused Logo network, a sister channel of MTV. The show replaced the LEGO with original articulated figure designs reminiscent of toys. It retained the main cast of characters and core plot points from the original brickfilm series. The TV show ran for 2 seasons for a total of 14 episodes aired from 2007 to 2009.[13] It was animated in Canada and one of the animators was Marc Beurteaux, who is also known in brickfilming for creating the 2005 classic Robota.[14]
References