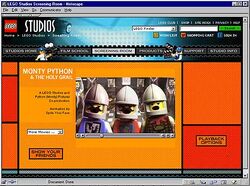 This is a list of films that were available to view on the website of LEGO Studios. The site included a section called Screening Room, which included a number of different categories of films that were available. The individual categories have been preserved on this list, in the orders they were presented in. The films were available to either download or stream. The films on the site were added between 2000 and 2002, and the website was offline by the second quarter of 2003.[1]
"Movie Clips"
Edit
Available on an older version of the LEGO Studios website. These films appear to have been available to watch before the official launch of LEGO Studios on November 1, 2000, as the archives of the related pages begin in June 2000.[2]
| Year | Film | Director(s) | Status |
| --- | --- | --- | --- |
| 2000 | Jurassic Bark | Bastrup Trickfilm | Located |
| 2000 | T-Rex in the Studio[3] | Bastrup Trickfilm | Located |
| 2000 | Intro to the LEGO Studios Steven Spielberg MovieMaker Set | Unknown | Unclear |
Official LEGO brickfilms
Edit
Other professionally created brickfilms
Edit
LEGO Studios Movie Making Contest entries
Edit
Entries to the LEGO Studios Movie Making Contest. This category contained a combination of winners and other semi-finalists of the main US contest, two winners of a lesser-known UK version of the contest, as well as the three winners of the National Movie-Competition at Singapore Polytechnic.
User-submitted
Edit
The LEGO Studios website included a submission form that allowed anyone the chance to have their own LEGO Studios film added to the website. This category also contains two of the semi-finalists from the LEGO Studios Movie Making Contest, for unknown reasons. The film The Duel is only visible in archives of the German-language version of the LEGO Studios site (as Das Duell),[25] and its exclusion from the English-language site (potentially only after a certain point) was presumably a mistake, as it is a film from Australia. The year/s in which the following films were added is not known, but it appears likely that they are all from 2001. It is possible that this block of films replaced at least one previously available block, the films of which are not known.[26]
"How To Movies"
Edit
Also available on the LEGO Studios site in the Screening Room section were some of the instructional videos from the LEGO Studios MovieMaker Set CD.
References
Edit
Community content is available under
CC-BY-SA
unless otherwise noted.