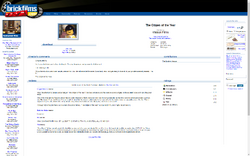 This is a list of brickfilms that were in the second film directory on Brickfilms.com.[1][2] This directory was opened by Joshua Leasure on August 4, 2003 and received its last update on June 10th, 2008. It was superseded by a new directory on the Brickfilms.com 3.0 redesign in February 2009. However, by that point, the community had moved to Bricks in Motion, and so the Bricks in Motion directory which opened in May 2009 became the next main directory of the community.
Where not otherwise known, films are listed as being from the year in which they were submitted, but it is possible some were made in prior years. Almost all of the films from #1 to #139 were carried over from the first Brickfilms.com directory by a member of staff, and there were more carried over intermittently over the years. There are a small number of duplicate films as a result of a director manually submitting a film that had already been carried over.
The "No." column indicates the number of each film page in the directory. The number in the column links to an archive of the directory page by that number, where available. This directory came with the addition of the Review Panel, and so films could be rejected if a reviewer deemed them to be of too low quality. Original descriptions and reviews can be read on these pages. The gaps between film numbers increase over time as standards become higher and more films are rejected. The number order is not always the same as the order that films were actually added to the directory. Films marked with a ribbon
indicate that they were in the Staff Favorites category, as added by a Review Panel member or any other member of staff. Films marked with

indicate that they are known or believed to have been the featured film in the directory for a period of time, as chosen initially by Joshua Leasure and later by the member in the Minister of Information role.
Due to a gap in archives of the Films page in the last quarter of 2007, it is possible that this list is missing the occasional film between roughly #3600 and #3700. However, due to the existence of extensive archives of each individual film page number, this list may in fact be complete.
No.
Year
Film
Director(s)
Status
1
2002
Star Wars: Attack of the Clone Trailer
Michael J. Green
Located
2
2002
Cafe
Jake "Bink" Christie
Original file corrupted
3
2002
Atom Bomb
William "Demonhawk" Zolandz
Located
4
2002
Grand Theft Auto
Patryk Wawer
Located
5
2002
Rocketmen vs. Robots
David T. Krupicz
Located
6
1990
TE
Andy Boyer
Located
7
1995
Heart of Darkness
Andy Boyer
Located
8
2002
Christmas with Bluntmation
Nate Burr
Located
9
2002
A Christmas Carol in Bricks
Stefan van Zwam
Located
10
2002
Brickanic
"Gorillo Productions"
Located
11
2002
Star Wars: The Unknown
Andreas Feix
Located
12
2002
Die Helden von Bern

Florian Plag, Martin Seibert and Ingo Steidl

Located
13
2002
Egyptian Comedy
Andreas Feix
Located
14
2002
BIRDS
Andreas Feix
Located
15
2002
Good Company
Nick Maniatis
Located
16
2002
Blood of the Wolf
Nate Burr
Located
17
2001
LEGOs Are Not Enough
4 Guys, 1 Brain
Located
18
2002
You Only LEGO Twice
4 Guys, 1 Brain
Located
19
2002
The Rise and Fall of Lazarus

Brian Gould, Colin Sproat & Spencer Glodek

Missing
20
2002
The Lion's Paw
Nathaniel "Yolegoman" Jones
Located
21
2002
Legoredo
James Hagewood, Tim McNutt,
Bert McMahan and Ryan Phillippie
Located
22
2002
Brick Fiction
Oliver Baentsch
Located
23
2002
Mystery of the Freaky Ass Day Where Everyone Was a Robot
Nate Burr
Located
24
2002
Toy Borgs
Rod Kent
Located
25
2002
LEGO Wars: La Menace Terrible
Laurent "Dako" Codaccioni and Stéphane "Topsie" Rougon
Located
26
2002
J-Park
"Slipstream Pictures"
Located
27
2002
The Crucible
Brian Gould
Located
28
2001
Cretaceous Camp
Philip Heinrich
Located
29
2002
Sector 7
Robert Taylor
Located
30
2001
Catharsis, Texas
Doug James
Located
31
2001
aHead of Time
Nathan Sutherland
Located
32
2001
The Matrix in 6 Minutes
Colin Jones
Located
33
2001
Amazone
Tjeerd Kamps
Located
34
2001
MilkManDan: A Tale of Blood and Gore
Bryce Chu
Located
35
2001
Dungeon Crawl: Part I
Jason Rowoldt
Located
36
2001
Xarkun 8
Joel Batterman
Located
37
1989
Oh Well
Andy Boyer
Located
38
2001
Jake Technic vs. Dr. Cyber
Thomas Foote
Located
39
2001?
Titanic: LEGOs at Sea
"Killer Epidemic"
Located
40
1990
StarLego
Myles Abbott and Kevin Burfitt
Located
41
1999
Salt Lake Spaceport
Kelly Jeffery and Russ Gatrell
Located
42
1999 - 2000
Rick & Steve: The Happiest Gay Couple in All the World
Q. Allan Brocka
Located
43
2000?
LEGO Chef
Steve Iervolino
Missing
44
1999
The Hei$t
Greg Perry
Located
45
1993
Ministry - "Thieves"
Jason Bardis
Located
46
2000
The LEGO Warrior
Jamey Dilbeck
Located
47
2001
Deep Breathing
Tony Johnson and Daniel Sommermann
Located
48
2003
Nightbreaker
Patryk Wawer
Missing
49
2002
Deserted
Brad Paras
Located
50
2003
Attack of the Clone
Michael J. Green
Located
51
2003
Good Company: Redux
Nick Maniatis
Located
52
2003
Paco's Wide World of Sports
Brian Gould and Simone Marchand
Located
53
2003?
Star Wars LEGO: The Adventures of Diavo & Joe, Episode IV
Dave Voltaggio
Located
54
2003
Geek Out
Nate Burr
Located
55
2003
a short documentary about: RUSSELL
Nick Maniatis
Located
56
2003
Bluntmation 7/7
(Emote, Choices, Fly, Duel, Samuri, Invincible, Guard)
Nate Burr
Located
57
2003
Raymond Riker, 003
Dennis Bolk
Located
58
2002
Construction Massacre
Chris Molly
Located
59
2002
SuperGuy! Part 1
Chris Molly
Located
60
2003
Among a Mafia
Casey Ryan
Located
61
2003
Indystarmatrix
Adam "IndyA" Ouellette
Located
62
2003
Sith Entertainment
Jonathan "Nubluez" Neary
Located
63
2002
The DOFAS
Andreas Feix and "Kaese Radierer Studios"
Located
64
2002
STARSANTA
Andreas Feix
Located
65
2003
Duel at Kamino
Philip Heinrich
Located
66
2002
Fart Competition 1, 2, 3 and 4
"WeirdEars"
Located
67
2002
The Scary Movie
Jonathan Jones
Located
68
2002
Prayer of Rabia
Ben Brenninkmeyer
Located
69
2002
Boardwalk
Nathaniel "Yolegoman" Jones
Located
70
2002
Bricks of Doom
Nathaniel "Yolegoman" Jones
Located
71
2002
The Legend of the Maul
Christopher Kim
Located
72
2002
Dominus Poenae
Christopher Kim
Located
73
2002
Alone
Jason Rowoldt
Located
74
2002
SS-5 Moccasin
Patryk Wawer
Located
75
2002
Martian Gothic 2
Patryk Wawer
Located
76
2002
The Electric Monster
Thomas Lean
Located
77
2002
Descension
Ben Brenninkmeyer
Located
78
2002
The Princess and the Frog
Erik "Brickerik" Amzallag
Located
79
2002
Animation Class: Lesson 1
Stefan van Zwam
Located
80
2002
Animation Class, Lesson 2: Frames Per Second
Nate Burr
Located
81
2002
Macabre Manor
Jared Gilbert
Located
82
2002
Alien
Trent Brown
Missing
83
2002
The Pirate's Treasure
Julian "Strati Pictures" Stratenschulte
Located
84
2002
Mensko Binks's Story
Karl "Jar Jar Productions" Hepworth
Located
85
2002
Radiation Inspector
Daniel "Penguins are Fat Movie Productions" R.
Located
86
2002
The Exorcist Trailer
Bacher "BM Studios" Markus
Located
87
2002
Cocaine
William "Demonhawk" Zolandz
Located
88
2002
Fig
Benjamin "SajoWorks Productions" Sajo
Located
89
2002
The End
Benjamin "SajoWorks Productions" Sajo
Located
90
2002
The Opening of the LEGO Ark
Nathaniel "Yolegoman" Jones
Located
91
2002
Natural Enemy
Nate Burr
Located
92
2002
Evening Report
Nick Maniatis
Located
93
2002
Slime
Benjamin "SajoWorks Productions" Sajo
Located
94
2002
Hairy-FREAK
Nate Burr
Located
95
2002
NASA-TOP SECRET - Apollo 11
Bacher "BM Studios" Markus
Located
97
2003
Great Microbiologists
Joshua Leasure
Located
100
2003
The Machine
Jonathan Williams
Located
101
199?
LEGO Man Movie 2
Daniel Crocker
Missing
102
2002
Vacation in Amsterdam
Sebastian Socha and Patryk Wawer
Located
103
2002
The Man in the Night
Ida Møller
Located
104
2002
Tapporalli trailer
Johannes Rojola
Missing (full film located)
105
2002
The Final Duel
Joe Loretz
Located
106
2002
Terror
Rob "Major Director" Pirouet
Located
107
2002
Rise of the Empire
Jay Silver
Located
108
2002
The Freak
Nate Burr
Located
109
2002
The Game part 2: The Doggie
Nate Burr
Located
110
2002
Donnie the Mobster: Trouble at School!
Nick Maniatis
Located
111
2002
Jedi Chronicles: The First Duel
Nick Maniatis
Located
112
2002
Kung Foo Fightin'
Sean Collins
Located
113
2002
METRO
Doug James
Located
114
2002
Star Wars: Last Strike
Nate Burr
Located
115
2002
Episode I: The Lesson (Episode I: Die Lektion), The Glove (Der Handschuh)
Thomas Roehl and Wolfgang Roehl
Located
116
2002
Martian Gothic
Patryk Wawer
Located
118
1985 - 2003
WDLN TV animation
(The Original Movie, America's Funniest Home Videos, Medieval Times, The Humpin' LEGOs, LEGO Slate #1, LEGO Slate #2, The Godfather, Blazing Saddles The Road Warrior, Johnny Cash: Were You There, Jeep Short #1, Jeep Short #2, Jeep Short #3)
Andy Boyer and Dave Lennie
Located
119
2001
Catch Up, Heinz
Oliver Baentsch
Located
120
2002
Brickfilms Historical Fiction Contest Award Show
Jason Rowoldt
Located
121
2002
Alligators Like Canoes
(and Unreal Tournament)
Tim Shanks
Located
122
2002
Doorway
Nick Maniatis
Located
123
2002
LegoLomo V: Melodrama
Marcel Belledin
Located
124
2002
Comedian Mummy
Andreas Feix
Located in Egyptian Comedy
125
2002
Assault From the Past
Rob "Major Director" Pirouet
Located
127
2002
Perelowic
Brian "Brian of Paco" Gould
Located
128
2002
Mystery of the BoB
Nate Burr
Located
129
2002
Ninja Thief
Ben Brenninkmeyer
Located
130
2002
The Fencers
Jason Rowoldt
Located
131
2002
Der reiche Kornbauer
Sammy Dittman
Located
132
2002
Mystery of the Ewok
Nate Burr
Located
133
2002
LEGO Live
Klaus "Bob Bongo" Wagner
Located
134
2002
Doctor Death
Klaus "Bob Bongo" Wagner
Located
135
2002
Whenever, Wherever
Carlos Eduardo Jorge
Missing
137
2002
NK2020
Nick Maniatis
Located
138
2002
The Big Night Out

Corinne Halsdorff, Matt Halsdorff and Tim Dotta

Located
139
2002
Fightclub: Valtsu vs Allison
"Valtsu"
Located
142
2003
Diplomacy III
James Jannicelli
Located
156
2003
Diplomacy II
James Jannicelli
Located
159
2003
Bob and Joe Meet the Penguins
Tom Dean
Located
162
2003
Diplomacy
James Jannicelli and Joshua Leasure
Located
165
2003
Spiderman vs. The Patriot
"Strongest of the Weak"
Located
166
2003
The Bill
Tom Dean
Located
167
2003
The Windmill
Tom Dean
Located
170
2003
The Letter
James Maduzia
Located
171
2003
Dangerous Weapon
Wesley "tub-o-legos" Robertson
Located
172
2003
Worst Case Scenario
Bob Page
Located
173
2003
Worst Case Scenario 2
Bob Page
Located
175
2003
The Computer Nut
Skye "legotronn" Sonomura
Located
177
2003
One is the Loneliest Number
Skye "legotronn" Sonomura
Located
178
2003
The Switch
Jonathan "Lewa11" Kaplan
Located
180
2003
The Man with the Cane
Daniel "dandenmark" Bethencourt
Located
183
2003
Sketchy's Guide of How to Make Those British Soldiers Actually Move
"Sketchy"
Located
184
2003
Revamped Wrestling Test
"Sketchy"
Located
185
2003
Brickfilms.com commercial
Andreas Feix
Located
187
2003
Il est Midi
Stefan van Zwam
Located
195
2003
Brick Man
Wesley "tub-o-legos" Robertson
Missing
196
2003
Chaos Brothers

Verena Köller, Martin Dusch and Michael Mey

("SenseLess Productions")
Located
199
2002
D-Day
Mark Wanninger
Missing
200
2003
He's Alive
Gex "4Jex Productions" Williams
Located
202
2003
Out of Time
Chris Salt
Located
203
2003
The Chicken Dance
Adam "IndyA" Ouellette
Located
206
2003
The World's Most Dangerous Grandparents
Logan Wright
Located
207
2003
Logan's Guide to the Top 5 Things NOT to Do When the Toilet Overflows
Logan Wright
Located
215
2003
Paranoid Bounty Hunter Vs. R2D2
"Mr.Looter"
Missing
216
2003
Comical Lightsabres
Mike "Spotted Cow Productions" Thorn
Located
217
2003
Once Upon a Time
Kristian Sandberg
Located
218
2002
The Duel
Kristian Sandberg
Located
224
2003
Attack of the Drones Trailer
Philip Heinrich and Spencer "Root Beer Studios" DeBrosse
Located
225
2003
Mi Horario
Adam "IndyA" Ouellette
Located
229
2001
The Gauntlet
Jay Silver
Located
230
2003
Indiana Jones and the Dance of the Giants (Book Trailer)
Adam "IndyA" Ouellette
Located
232
2003
Trouble in Sherwood
Glenn Chan and William Huang ("chanhuangfilms")
Located
233
2001 - 2003
Cretaceous Camp - Special Edition
Philip Heinrich
Located
234
2003
Adventures on a Talk Show

Alex "Luke Warm Mediocre Studios" Wright

Located
237
2003
Beverly Brick Cop
Cornelius Koch and Philipp Richter
Located
242
2003
1xY
Errol Elumir
Located
244
2003
The Escape
Daniel "dandenmark" Bethencourt
Located
245
2003
The Big Race
Daniel "dandenmark" Bethencourt
Located
247
2003
Revenge
Daniel "Idiotless" Ernst
Located
248
2003
Martian Gothic 3
Patryk Wawer
Located
249
2003
A Forest - The Cure
Nick Maniatis
Located
251
2003
LEGO Battles
Tim Hui
Located
252
2003
Behind the Camera: Steven Spielberg
Skip "kowarama skip" Wilson
Located
255
2003
Making Movie
Patryk Wawer
Located
259
2003
The Legomatrix
Jason "iMedia" Steele
Located
260
2001
The Barber of Seville
Stefan van Zwam and Marcel van Zwam
Located
263
2003
Over the Hills and Far Away
Kristian Sandberg
Located
267
2002
New! Old! Animation
David "kowarama david" Bernstein
Located
274
2003
A Grand and Merry Race
Doug James and Jared Gilbert
Located
283
2003
Attack of the Head-Flinger
"Alex & Bob"
Located
284
2003
Gymnastic Duels
Mike "Spotted Cow Productions" Thorn
Missing (special edition located)
285
2003
The Return of the King (trailer)
Leftfield Studios
Located
287
2003
Good Cop Bad Cop part 1
"Strongest of the Weak"
Located
288
2002
The Mollusk
Greg Perry
Located
289
2001
The Evolution of Creation
Greg Perry
Located
290
2000
The Relativity of Bricks
Greg Perry
Located
301
2003
Wake Up
Ben Brenninkmeyer
Located
304
2003
Fart Competition Parts 5, 6 and 7
"WeirdEars"
Located 2/3
306
2003
Pilot
"7th Hour Productions"
Located
307
2003
The Apartment
"7th Hour Productions"
Located
311
2002?
Not About You
"Stone Silent Productions"
Located
313
2002
LEGO Deathmatch 3
Johnson Riggs and Tyler Hines
("Drunken Farmer Ben")
Located
319
2003
Empty
Logan Wright
Located
320
2003
Hero Trailer
Clemens Ableidinger
Missing
322
2003
The Wonderful World of White
Justin "unfoldingmetal" Tomchuk
Located
332
2003
A Wasted Journey
Chris Salt
Located
336
2003
Star Trek vs. Star Wars
Dan "half star films" Miga
Located
338
2003
The White Room
Leftfield Studios
Located
343
2003
Diplomacy III: Special Edition
James Jannicelli
Missing (original edition located)
344
2003
Gymnastic Duels: Special Edition
Mike "Spotted Cow Productions" Thorn
Located
345
2003
At the Studio
Nick Maniatis
Located
346
2003
The Wise Warrior
Clemens Ableidinger
Missing
347
2003
SWAT Plot
Walt Flanigan
Located
348
2002
Something Weird
Tim DeWitt and Nik Pfeifer
Located
349
2002
Something Weird 2
Tim DeWitt and Nik Pfeifer
Located
350
2003
Don't Play With Fire
Tim DeWitt and Joey Casa
Located
351
2003
An Idiot's Guide to Getting a Date
Tim DeWitt
Located
355
2003
Ninja Fight, the Movie
Justin Baker
Missing
366
2003
Toll Bridge
Tom Dean
Located
367
2003
Matrix -rebricked-
Christian Busch
Missing
370
2001
Sun God
Brian "Brian of Paco" Gould
Located
372
2003
Le Petit Chaperon Bleu
Justin "unfoldingmetal" Tomchuk
Located
377
2001
Skelital Attack
Brian "Mr.B" Schimke
Located
380
2003
Nuclear Horror
Dan "half star films" Miga
Located
388
2001
Also Thwacked Zarathustra
Thomas Foote
Located
389
2003
Extreme Preparation
Mark Butler
Located
392
2003
The White Ninja
Nate Burr
Located
394
2003
The Strongest Weapon
Marco "Racer1988 BrickStudios" Pappalardo
Located
404
2003
Pirates Who Don't Do Anything
Skip "kowarama skip" Wilson
Located
407
2003
The Wise Warrior 2
Clemens Ableidinger
Missing
408
2003
Where'd the Cheese Go?
Chris Salt
Located
412
2003
Return of the Blob
"MooFlame Studios"
Located
413
2003
A New Computer
Pat Mahoney
Located
414
2003
Revenge Special Edition
Daniel "Idiotless" Ernst
Located
415
2003
British Zombie series (Part 1, Part 2)
"WeirdEars"
Located
418
2003
HMS Pinafore1
"Strider"
Located
421
2003
Swordfight
Dan "half star films" Miga
Located
424
2003
Tekken
Clemens Ableidinger
Located
426
2003
Black Knight
Richard A. Creel
Located
428
2003
Rocketmen vs Robots episode 2: Rocketmen Space Patrol
David T. Krupicz
Located
431
2003
Sally Matrix
"Hoogiman"
Located
432
2003
The Bald Zone - Level 1
Christopher "tikitkirevenge" Chen
Located
434
2001?
A Windy Day
Jonathan Williams
Located
436
2002
Hamlet
Jeremy Williams
Located
437
2003
Dan the Arctic Man's Guide to the Arctic
"Hoogiman"
Missing
439
2003
Dan the Arctic Man's Guide to the Bar
"Hoogiman"
Located
441
2002
Psycho
Oliver Baentsch
Located
448
2003
Anne Frank in Bricks Trailer
"WeirdEars"
Located
456
2003
Macbeth
Jeremy Williams
Located
458
2003
The Brickhiker's Guide to the Galaxy
Andreas Feix
Located
463
2003
Brickventure Jones in The Golden Mirror
Nathaniel "Yolegoman" Jones
Located
465
2003
The Playground Bully
Tom Dean
Located
466
2003
Deception
Doug James
Located
467
2003
Never Give Up
Matthew Lieberman and Cody Lieberman
Located
468
2003
The Rich Man
Tim DeWitt
Located
471
2003
Silence is Golden
Logan Wright
Located
475
2003
The Cannon
"MovingLegos"
Located
476
2003
Confucius: Man of Wisdom
Tim Hui
Located
479
2003
Please Help!
Skye "legotronn" Sonomura
Located
480
2003
The Monkey
James Morr
Located
486
2003
Kill 2 Birds with 1 Stone
Andreas Feix
Located
488
2003
LEGO Bank Ad
Robert Frost
Located
492
2003
die Letzten
Christoph Brock
Located
494
2003
Monky Business
Loïc Desjardins
Located
495
2003
Don't Tear Down the Fence
Daniel "Idiotless" Ernst
Located
500
2003
Terminator 4: Rise of the Polls
Leftfield Studios
Located
502
2003
Gold
"WeirdEars"
Located
504
2003
Fredo Fort
Aidan "wardo_films" Wardman
Located
505
2003
The War on Iraq
Aidan "wardo_films" Wardman
Located
509
2003
Words of Wisdom
Chris Salt
Located
513
2003
Great Inventors Part 2
Stefan van Zwam
Located
515
2003
Sanity
Zach Stanley
Located
516
2003
The Fish
Mark Wanninger
Located
523
2003
Wisdom from a Vending Machine
Nate Burr
Located
525
2003
Police Pursuit
Bill "Stew Films" Buhlman
Missing
526
2003
24 Hours Open - Convenience Store
"TracerBullet"
Located
528
2003
Raymond Riker, 003 - SE
Dennis Bolk
Located
529
2003
Matrix
"Nick"
Located
531
2003
The Tower of the Golden Wonders
Aidan "wardo_films" Wardman
Located
533
2003
The Cinema
Arnout "CrystalBrick" van der Maas
Located
539
2003
Don't Loose your Head in front of Darth Vader!
Tobias "HanzonFilms" Haglund
Located
542
2003
The Box
James Jannicelli
Located
543
2003
The Horse
Leftfield Studios
Located
545
2003
Get Back to Bed!
"Hoogiman"
Missing
547
2003
Zero Gravity Rebellion
James Maduzia
Located
552
2003
Tom's Guide to Winning the Lottery
James Morr
Located
553
2003
The Acrobat's Journey
Kristian Sandberg
Located
554
2003
Dare to be Different
Nick Maniatis
Located
556
2003
Hide n Seek
"Gooey"
Missing
558
2002 - 2003
SS-5 Moccasin Special Edition
Patryk Wawer
Located
563
2003
Falling Out
Joshua Leasure
Located
566
2002
Michael Jackson's Thriller
Philipp Lents and Miriam Lents
("Phil & Misa")
Located
567
2002
Der Kampf Des Todes (Fight Of Death)
Philipp Lents and Miriam Lents
("Phil & Misa")
Located
568
2002
Der Kleine Legoladen
(Little Shop Of LEGO)
Philipp Lents and Miriam Lents
("Phil & Misa")
Located
569
2002
Space Fight
Philipp Lents and Miriam Lents
("Phil & Misa")
Located
570
2002
I Know Why You Screamed Last Summer
Philipp Lents and Miriam Lents
("Phil & Misa")
Located
571
2003
Banana Psycho
Philipp Lents and Miriam Lents
("Phil & Misa")
Located
572
2003
Duell (Duel)
Philipp Lents and Miriam Lents
("Phil & Misa")
Located
575
2003
If Star Wars Guys Want to Order a Pizza
Clemens Ableidinger
Located
580
2003
How Soccer Was Invented
"Hoogiman"
Missing
588
2003
Bad Bill Trailer
Daniel "Idiotless" Ernst
Missing
592
2003
Air Raid 1942
Alan "Amped" Menhennet
Missing
594
2003
Really Deep Space: Redux
Jeff Leary
Located
598
2003
Abusive A-bomb
Aidan "wardo_films" Wardman
Located
601
2003
LEGO Lario Land
Philipp Lents and Miriam Lents
("Phil & Misa")
Located
622
2003
Ween - Voodoo Lady

Alex "Luke Warm Mediocre Studios" Wright

Located
627
2003
Miller's Tale
"Strongest of the Weak"
Located
628
2003
Street Dance
"Hoogiman"
Missing
635
2003
All in a Days Work
Jeff Leary
Located
637
2003
Taco Trouble
Andy Boyer and Dave Lennie
Located
644
2003
Die Drei Beiden - Detlef & Dieter allein zu Haus
Cornelius Koch and Theodor Becker
Located
651
2003
Short Pointless Fighting Film
"Sketchy"
Located
657
2003
The Fellowship of the Snake-Fearing Jedi
Seth Rotkin
Missing
660
2003
The Invincible Trixer
Martin "Mak(r)er Pictures" Hallman
Missing
664
2003
Doorbells of the Meadow
Nicolas "Pablito" Pesce
Located
676
2003
The Lord of the Knights
Friedrich "Hepe" Hebbel
Missing
688
2003
The Amazing Adventures of the Temp
Matthew Lieberman and Cody Lieberman
Located
690
2003
~Karate Kid~
Martin "Mak(r)er Pictures" Hallman
Located
693
2003
Fight Scene from Red vs. Blue
Daniel "Idiotless" Ernst
Located
694
2003
Rush Hour Trailor
Aaron "Lime Lite Productions" Leming
Located
702
2003
CGI Fight
"mathew"
Located
705
2003
Unarmed - Phase 1
"Baldie"
Located
714
2003
The Fisherman
Nicolas "Pablito" Pesce
Located
718
2003
Free Lance March MTV
Henry Shew
Located
719
2003
The Cask of Amontillado
Logan Wright
Located
727
2003
The Securer
Clemens Ableidinger
Missing
728
2003
Lancelot
Jindra Kania
Located
729
2003
Vinnetou and Bandit
Jindra Kania
Located
733
2003
Sir Alfred Lord Tennyson's
Benjamin "SajoWorks Productions" Sajo
Located
735
2003
Totally Random
Leftfield Studios
Located
736
2000
The Speederbike
Alban Nanty
Located
737
2003
The Vision
Andrew "AMT Studios" Theis
Missing
744
2003
Doctor Who: The Celestial Toyshop
Chris Salt
Located
745
2003
The Battle Droid Band
Alban Nanty
Located
746
2003
Vader Saber Test
Dave Corbett
Located
747
2003
Monday
"ad.hoc"
Located
750
2003
LSW
(1, 2, 3, 4, 5, 6, 8, 9)
Alban Nanty
Located
753
2003
VODB Trailer
Mike "Spotted Cow Productions" Thorn
Located
754
2003
If I Had a Shark, trailer
Olivier Bonenfant
Located
762
2003
Prinssi
Viljami Teekkinen and Ilmari Teekkinen
Located
765
2003
Sport Freaks
Martin "Mak(r)er Pictures" Hallman
Located
767
2003
Dr. Justin Case in Mission Mars
Skye "FLL-Freak" Sweeney and Ken Streeter
Located
774
2003
Miracle on Brick Street
(Director's Cut)
Ben "benlen" Gadberry
Located
782
2003
A Beatles Christmas
Leftfield Studios
Located
785
2003
Boarded Part 1
Alan "Amped" Menhennet
Missing
788
2003
Legoman Meets Santa Claus
Stephen Nolen and Austin Nolen
Located
789
2003
Legoman - The Movie
Stephen Nolen and Austin Nolen
Located
790
2003
Christmas

Alex "Luke Warm Mediocre Studios" Wright

Located
792
2003
Titanic
"Redstone Films"
Located
794
2003
The Thief 2
"Northwood Pictures"
Located
797
2003
Computer Savvy
James Morr
Located
806
2003
My Suggestion
Michael "MiSa-Animations" Sauer
Located
807
2002
The Invention
Lars Møller, Ida Møller and Mads Møller
Located
808
2002
The Man in the Night
Ida Møller
Located
809
2002
Christmas Greetings 2002
Lars Møller
Located
813
2003?
The Hat (Old)
Andrew "AMT Studios" Theis
Missing
816
2003
The Hampster Dance
Skye "legotronn" Sonomura
Located
817
2004
Nowhere In Space, Episode 1
Loïc Desjardins
Located
825
2003
Behind the Scenes
Nick Maniatis
Located
828
2004
The Lord of the Play Things
Mark Wanninger
Located
830
2004
The Battle of New Orleans
Joshua Leasure
Located
831
2003
The Thief 3
"Northwood Pictures"
Located
838
2004
Sword of Valo Trailer
Viljami Teekkinen and Ilmari Teekkinen
Located
840
1998
Twelve Bucks
Rob Weychert
Located
842
2003?
The Gas Man
"mossahebi"
Located
844
2003
The Cell
Daniel "Idiotless" Ernst
Located
848
2003
2039: The Year We Were Contacted Trailer(English subtitles)
Andreas Feix
Located
852
2003?
The Adventures of Diavo & Joe - Episode IV
Dave Voltaggio
Located
854
2004?
The Great Escape
"Jeff the Great"
Missing
855
2002
The Crase
"Holgor"
Located
856
2003
Shuttling
"Holgor"
Located
857
2004
The Pirates of the Second Sea
Jamie Holding
Located
862
2004
The Bionic Man
Robert Frost
Located
863
2004
Biomechanik
Dirk Boettcher
Located
864
2004
Electronic Apeman
Dirk Boettcher
Located
866
2004
The Värien Knights
Viljami Teekkinen and Ilmari Teekkinen
Located
874
2004
The Thief 4
"Northwood Pictures"
Located
877
2004
Christmascard...
Martin "Mak(r)er Pictures" Hallman
Located
879
2004
Rush Hour
Aaron "Lime Lite Productions" Leming
Located
882
2004
Star Wars: Platform 20
Jeroen Willemse
Located
883
2004
The Doctor's Dance
Jeorge Johns
Located
884
2004
Fight Club: Don't Mess With Tetris
Daniel "Idiotless" Ernst
Located
895
2004
Crime Doesn't Pay
Stephen Nolen and Austin Nolen
Located
902
2004
The Mad Literalist Trilogy (1, 2, 3)
"Strider"
Located
905
2002 - 2004
The Bank Robbery - Remastered
Kristian Sandberg, Daniel and Erik
Located
907
2004
Rocketmen vs Robots Episode 3: Rocketmen Timecube
David T. Krupicz
Located
916
2004
Beatles: A Tribute (B&W, color)
Leo Mitchell
Located
920
2002
Midnight Ride
Doug James and Jared Gilbert
Located
921
2001
The Thing From Uranus
Doug James
Located
922
2001
Crouching Tiger, Hidden Donut
Doug James
Located
923
2001
A Grand and Merry Chase
Doug James
Located
924
2004
Just the 2 of Us
Robert Frost
Located
925
2004
Fight Club: MRH
Daniel "Idiotless" Ernst
Located
930
2004
DeeJay Bricks & The Brix Breakers "Old School"
Steffen Troeger and Andreas Mooslechner
Located
931
2004
Blindflug - Blind Flight
Cornelius Koch and Laura-Kristin Koch
Located
932
2004
Tommy's Adventures
Aaron "Lime Lite Productions" Leming
Located
942
2004
Microsoft Commercial
Tim Hui
Located
943
2000
LEGO Liberation
Alex Suter
Located
946
2004
The Vine
Martin "mad" Drucker
Located
948
2004
Boarded Part 2
Alan "Amped" Menhennet
Located
958
2003?
Crash Test
Aaron "Lime Lite Productions" Leming
Original file corrupted
959
2004
Planned Coincidence, Geplanter Zufall
Cornelius Koch and Theodor Becker
Located
962
2000
All of the Dead
Tony Mines and Tim Drage
Located
963
2001
ONE: A Space Odyssey
Tony Mines and Tim Drage
Located
965
2002
Star Wars Episode V 1/2: The Han Solo Affair
Tony Mines and Tim Drage
Located
966
2001
Monty Python and the Holy Grail in LEGO
Tony Mines and Tim Drage
Located
975
2004
ApartX Ad
Alan "Amped" Menhennet
Located
978
2004
Legoman Makes a Friend
Stephen Nolen and Austin Nolen
Located
983
2004
Hoogiman and the Attack of the Trailers
"Hoogiman"
Located
986
2004
The Mooche
Scott "Bluenote" Wright
Located
988
2004
The Rescue (starring that girl and the skeleton guy)
Gareth "Gary13" Branscombe
Located
990
2004
HWLLLH
Robinson Wood
Located
994
2004
A Trip to Alphen
Lourentz Hek, Ton Wolvers and Maarten Koot ("magical bricks")
Located
996
2004
End of Days: Chapter I
James Morr
Located
1004
2004
Suck Wars - Episode I
"Jybee"
Located
1007
2004
Repugnant
Nate Burr
Located
1008
2004
Brick Fighters
Clemens Ableidinger
Located
1012
2003
The Classics
(Charlie's Day, Bohemian Rhapsody, Lumberjack Song)
Daniel "Idiotless" Ernst
Located 2/3

(One original file corrupted)

1013
2004
RP2020
Nick Maniatis
Located
1017
2004
Buffy the Vampire Slayer
Sebastian Niemann
Located
1022
2004
Sword Duel II
"Yaka-Yak"
Located
1027
2004
Fight Club: TMNT
Daniel "Idiotless" Ernst
Located
1028
2004
About a Door Parody
Logan Wright
Located
1031
2004
Hair Trigger
Robert Frost
Located
1033
2004
The Reservation
Cory "Zenitite" Bujnovicz
Located
1037
2004
Rapunzel
Jay Silver
Located
1039
2004
Fight Club BFGSB
Alan "Amped" Menhennet
Located
1040
2004
High Speed Heist
Derek "black hole studios" Ivey
Located
1041
2004
Extreme Delivery
Mark Butler
Located
1050
2004
Breakdancing LEGO Men!
"BRICK MAN"
Located
1052
2004
Crashes
Jeroen ("wcplee")
Located
1055
2004
Memories of World War II
Jeremy Markowitz
Located
1061
2004
Parody^2: About a Door
Tim DeWitt
Located
1065
2004
The Problematic Life of Stratford Dawkes
"Neil and Greg"
Located
1067
2004
An' D
Richard A. Creel
Located
1068
2004
A Peculiar Event Cash In
Richard A. Creel
Located
1070
2004
The Video
Antti "YSS" Määttä
Located
1071
2004
Vogeltjes
Patryk Wawer
Located
1073
2004
Hit & Run
Nick Maniatis
Located
1075
2004
Abracadabra
Steffen Troeger and Andreas Mooslechner
Located
1078
2004
Grenzoeffnung
"Lornz"
Missing
1080
2004
WLMFCNRMIAJ
Nathan "LGM" Dunlap
Located
1081
2004
The Museum
Jonathan Williams
Located
1082
2004
Stranded
Felix Czepluch
Located
1083
2004
The Customer is Always Right
Dave Corbett
Located
1084
2004
Beyond Holgor's Door
Dave Corbett
Located
1086
2004
The Hand of Fate
Dave Corbett
Located
1088
2004
The Adventures of Murray
David "Mellow" Williams
Located
1093
2004
Pick-Up Lines Don't Work
"7th Hour Productions"
Located
1095
2004
Star Wars Episode 2.5
Tony D.
Located
1096
2004
The Car Wash
Daniel "dandenmark" Bethencourt
Located
1098
2004
Documentery on Extreme Sports
Ken "SuperBricKen" Herman and Duncan Figurski
Located
1099
2004
Prey
James Jannicelli
Located
1101
2004
A frosty Welcome
Christoph Brock
Located
1102
2004
The White Room
Alan "Amped" Menhennet
Located
1104
2004
Failed Inventions: The Nuclear Mousetrap

Wesley "Ye Olde Bonzai! Studios" Robertson

Located
1107
2004
Hair - No Mo
Stephen Nolen
Located
1126
2004
Garden
"BRICK MAN"
Located
1127
2004
Twilight Trouble
Matthew Lieberman and Cody Lieberman
Located
1130
2004
Mummy, Where Art Thou
Jeroen Willemse
Located
1131
2004
Bork
Andy Boyer and Dave Lennie
Located
1135
2004
Lionheart's Birthday
Dirk Boettcher
Located
1138
2004
Makeover Madness With Potts & Paans
Rachel Dew
Located
1140
2004
ANTI-FAQ
Robert Graff
Located
1141
2004
The Princess Brick- SE
David "PacoDave" Olsen
Located
1149
2004
Chameleon
"Smiley Films"
Missing
1150
2004
Good Morning
Cornelius Koch
Located
1156
2004
Spider-Boy Episode 1
Nathan "LGM" Dunlap
Located
1164
2004
Forum Addiction
Matthew Lieberman and Cody Lieberman
Located
1166
2004
I'm Your Boogie Man
Olivier Bonenfant
Missing
1170
2004
Odysseus and the Kyklopes
Colin "Woody" Wood
Located
1171
2004
BodySnatched - The Bionic Man 2
Robert Frost
Located
1174
2004
Grumpy Monkey
Nate Burr
Located
1176
2004
The Robot Carnival Game
Ken "SuperBricKen" Herman
Located
1177
2004
Most Hated Movie
Ken "SuperBricKen" Herman
Located
1185
2004
L.O.L. Chapter 1
Cory "Zenitite" Bujnovicz
Located
1193
2004
Blank Alley
Aidan "wardo_films" Wardman
Located
1199
2004
Star Wars: LEGO Wars
"Cell5000"
Located
1200
2004
Missing Moon Mission Movies
Stephen Nolen and Austin Nolen
Located
1202
2004
The Legomatrix Revolutions
Jason "iMedia" Steele
Located
1207
2004
Bad Day
Teddy "T.M.A Films" Walsh
Located
1208
2004
Star Wars Rebel Alliance
Jeremy Markowitz
Located
1210
2004
Abducted!
Leftfield Studios
Located
1214
2004
Enviema
Viljami Teekkinen and Ilmari Teekkinen
Located
1224
2004
Katies B-Day
Ben "Alien-Films" Dalrymple
Located
1231
2004
Tommys Dream
Amy "Picture-Purfect-Films" Dalrymple
Located
1232
2004
The Dunberry
"Nervous Productions"
Located
1233
2004
Waffles
James Morr
Located
1237
2004
The Ex-Girlfriend
"CtrlX"
Located
1238
2004
About a Different Door
Jonathan Williams
Located
1239
2004
The Magician
Sean Lyon and Arran Lyon
("Lyon Studios")
Located
1242
2004
It's Rapunzel
Mark Wanninger
Located
1244
2004
Death of a Blob
"jimbob"
Located
1245
2004
About a Door
"Holgor"
Located
1246
2004
The Grand Opening
"Holgor"
Located
1248
2004
LEGO Cars
"BRICK MAN"
Missing
1252
2004
PitStop
Achim Breidenbach
Located
1256
2003
John Sinclair - Die Hochzeitsnacht S1E15
"tom-ii"
Missing
1257
2004
Dance Craze- YMCA
David "PacoDave" Olsen
Located
1259
2004
Brother Fight
Aaron "Lime Lite Productions" Leming
Located
1263
2004
lol
"BRICK MAN"
Missing
1264
2004
The Citizen of the Year
J. Watson
Located
1266
2004
The Box
Nathan S.
Located
1272
2004
PTV: Mad Cow Report
Logan Wright and Tom Dean
Located
1277
2004
That's Life
Daniel "Pikanto" Pook
Located
1293
2004
The Job
Teddy "BIG Films" Walsh
Located
1295
2004
Hellephone
Nate Burr
Located
1297
2003
Cake
Frank Smith
Located
1298
2004
It's Not Done Yet
Skye "legotronn" Sonomura
Located
1305
2004
The Life of the LEGO
"davefilms"
Located
1306
2004
Are We There Yet?
Stephen Nolen
Located
1309
2004
Ridiculously Scary
Skye "legotronn" Sonomura
Located
1310
2004
Teahouse Trouble
Dirk Boettcher
Located
1312
2004
He's coming...
Steffen Troeger
Located
1318
2004
The Common Cold
Daniel "Idiotless" Ernst
Located
1320
2004
Mozart in Bricks
Ben "benlen" Gadberry
Located
1322
2004
Mortigi Muta
Viljami Teekkinen and Ilmari Teekkinen
Located
1324
2004
Dodgeball
Andrew "AMT Studios" Theis
Missing
1325
2004
The Heist
Andrew "AMT Studios" Theis
Located
1326
2004
Where is the Love
Aaron "Lime Lite Productions" Leming
Located
1328
2004
Four to the Floor
"Hoogiman"
Located
1332
2004
Little Red Riding Hood
Frank Smith
Located
1359
2004
Bob the Stormtrooper - Episodes 1 - 3
Chris "Plastic FIlms Productions" Bradley
Located
1438
2004
Dentist Office
Josh "Picturistic Films" Lachman
Located
1439
2004
Murder in a House
Marc "GopedGuy"/"Furless Films"/"Exile Films" Pierson
Located
1441
2004
Death by Psychological Abuse
Robinson Wood
Located
1442
2004
Ninja Fight
"Je Bent Geen Tijghur Productions"
Missing
1444
2004
Goldfinglingler (A Short Shoot-Out)
Patrick Smith
Located
1445
2004
Operation Elimination
Nathan "LGM" Dunlap
Located
1446
2004
Bank Attack
Kees Kemper
Located
1448
2004
Master
Brendan Henry
Located
1455
2004
The Secret of Monkey Island 1½
David "Mellow" Williams
Located
1458
2004
Jam
James Morr
Located
1459
2004
5919
Viljami Teekkinen and Ilmari Teekkinen
Located
1461
2004
Domestic
Ross Olivey
Located
1466
2004
Can You Sing?
Nathan "LGM" Dunlap
Located
1471
2004
IceCream
Frank Smith
Located
1472
2004
LEGO Star Wars
"BRICK MAN"
Missing
1474
2004
The Call (Der Anruf)
Marius "md1138" Druschke
Located
1477
2004
A Holiday Message
James Morr
Located
1481
2004
The Good and The Bad
Cody "Chuckles" Rundle
Located
1482
2004
De Ski-vakantie (The ski-holiday)
Jim "Emptyhead" Schulpen
Located
1483
2004
Bus Stop
Steffen Troeger
Located
1485
2004
The Return of the Dragon King
Josh "Star of Rock" Evans
Located
1487
2004
Fart Competition Part One
"WeirdEars"
Located
1491
2004
Just for You Daddy
Bwana Martin
Located
1492
2004
Stupid Medieval Movie
Jeroen Willemse
Located
1495
2004
Motorcycle Race
Jonathan Schlaepfer
Located
1497
2004
Star Wars: The Great Disturbance
Leftfield Studios
Located
1498
2004
One Bad Day
"BRICK MAN"
Missing
1499
2004
Thin Bricks
Sean Collins
Located
1501
2004
Indiana Jones and the Ruins of Egypt
Part 1
Bram Haentjens
Located
1502
2004
The Adventures of Crispy Cheeser: Where the Sharks Are!
(The Exciting Conclusion!)
Jeremy Schaulin-Rioux and Ryan Barker
Located
1503
2004
Pizza
"yokie"
Located
1504
2004
Amitrock
Viljami Teekkinen and Ilmari Teekkinen
Located
1505
2004
Crossroad
Patryk Wawer
Located
1506
2004
De ontsnapping van Bill Boef
"yokie"
Located
1507
2004
Yet Another AaD Parody
Eric "Erlic" Duvall
Located
1508
2004
Molvanian Idol
Andrew J.
Located
1511
2004
The Exodus
James Morr
Located
1512
2004
The Family
"yokie"
Located
1513
2004
Royalty Turned Amphibian
Tom Dean
Located
1514
2004
Another Day - Another Dollar
"DR43758215"
Located
1515
2001
Pizza Flambe
David Clough
Located
1516
2003
Quality Control
Kelvin "The Professional" Unsworth
Located
1517
2003
The Crocodile Hunter
Kelvin "The Professional" Unsworth
Located
1519
2003
R.P. Controls
Kelvin "The Professional" Unsworth
Located
1522
2004
Rules Aren't Meant to be Broken
Patrick "Paskimp Pro." Wotten
Located
1523
2004
The Matrix ReCreated
"boganbusman"
Located
1524
2004
Limbo: Special Edition
Brendan Henry
Located
1525
2004
Neo vs Smith (ugly)
Lee "chunky studios"/"lee123" McHale
Located
1527
2004
The Machine
Daniel "Idiotless" Ernst
Located
1531
2004
Legoman vs. Human
Aaron "Lime Lite Productions" Leming
Located
1533
2004
Fight Club: FAQ
Daniel "Idiotless" Ernst
Located
1534
2004
The Radio Fight
Marc "GopedGuy"/"Exile Films" Pierson
Missing
1535
2004
Skull
Andrew "AMT Studios" Theis
Located
1536
2004
The Unknown Temple
Lee "chunky studios"/"lee123" McHale
Located
1543
2004
Nut Attack: Epesode I
"Gaku"
Missing
1544
2004
Mad Crazy Scientist
Dave Wardell
Located
1546
2001
Vecna's Lens: Part I
Jason Rowoldt
Located
1547
2002
Historical Fiction Contest Awards Show
Jason Rowoldt
Located
1549
2004
Skycops
Nils "X-citing studios" Steyaert
Located
1552
2004
The Hat (New)
Andrew "AMT Studios" Theis
Missing
1553
2004
The Silent Voice
Henry Shew
Located
1554
2004
Taverna
"Michalaki"
Missing
1555
2004
The Wizard
Aaron Blood
Located
1556
2004
Midnight Plight Part 1
"BRICK MAN"
Missing
1557
2004
Band Time
Jeremy Markowitz
Located
1560
2004
Revenge of the Smilies
Nils "X-citing studios" Steyaert
Located
1561
2004
Julius Returns to Markham
"Mouser10"
Located
1565
2004
Air Enforcement
Mark "bikerdudenc" Martin
Located
1566
2004
Space Admiral
Clemens Ableidinger
Original file corrupted
1567
2004
The LEGO Sandwich Special Edition
Skye "legotronn" Sonomura
Located
1568
2004
Exterminate
Alan "Amped" Menhennet
Located
1569
2004
Misheard Lyrics #1
"Boleg Bros"
Located
1575
2004
Meerschweinchen 2

Matthias "MFP (Matzes Film Produktion)" B.

Located
1577
2003?
LEGO Wars Archives: True Republic
Lewis Chen
Original file corrupted
1578
2004
KungFu
"superfellow"
Located
1579
2004
The Robbed Neighbours
"yokie"
Original file corrupted
1580
2004
Bombing
"MEtalJAcket"
Missing
1581
2004
The Usher Remix: Let It Burn
(Crispy Cheeser?)
Jeremy Schaulin-Rioux and Ryan Barker
Located
1582
2004
Born to be a Minifig
Dale Stoltzfus
Located
1583
2004
The Maniac and the Hero
Lee "chunky studios"/"lee123" McHale
Located
1584
2004
Resident Evil
Sebastian Gaffrey and Patrick Ponschek ("Powergamers")
Located
1585
2004
Mediocre Hour: Eps#01:
Highspeed My Butt!
Lewis Chen
Located
1586
2004
Hold
Robert Frost
Located
1589
2004
Mediocre Hour: Eps#02:
Stop-mo, Slow-mo
Lewis Chen
Located
1592
2004
Secret Service Delivery
Seth "Picturistic films" Lachman
Located
1593
2004
CPT Presentation
Sidney Jung
Located
1594
2004
The Green Dragon
Nathan "LGM" Dunlap
Located
1595
2004
TTOTCOTTOTGTDS
"Hoogiman"
Located
1596
2004
Seeing Red
Brendan Henry
Located
1597
2004
Ultimate Agent Smith Fight Scene
Robinson Wood
Located
1598
2004
On the Mike - The Arnie Situation
(A Question of Trust, Get Up Stand Up, Call a Doctor, Philological Surgery)
Mathias Mertens
Located
1600
2004
The Lunch Trilogy
(Hot Dog, Burrito, Hamburger)
James Morr
Located
1603
2004
Between the Two Fighters the Third Enjoys (?)
"Mitheld"
Located
1605
2004
Bash a McDonalds
Ira Gardner-Morse
Located
1606
2004
Aladibababad
Leftfield Studios
Located
1607
2004
Blue Chip
"chee"
Located
1608
2004

James Bong - And forever hold your peace

(Scenes 2 and 3, Intermezzo, Scenes 5 and 8, Scenes 11 and 12)
Markus Truninger and Christian Haenggi
Located
1609
2004
Totentanz
Steffen Troeger and Andreas Mooslechner
Located
1610
2004
Moving Out- The LEGO Way
Jesse "J-Cam Films" Prince
Located
1611
2004
Matrix R3loaded
"Boleg Bros"
Located
1612
2004
Rohaddey
Viljami Teekkinen and Ilmari Teekkinen
Located
1614
2004
Eye of Aphrodite
Mark Wanninger
Located
1615
2004
Duel of the Farce
"FrameWorks"
Missing
1616
2004
Duel on a Clearing
"esze"
Missing
1617
2004
The Golden Elephant
Dirk Boettcher
Located
1618
2004
Lost
Cornelius Koch
Located
1619
2004
Fred's Day
Leftfield Studios
Located
1620
2004
The Fun House
Robinson Wood
Located
1621
2004
Rapunzel (The True Story)
Christoph Brock
Located
1622
2004
Surreal 1 1/3: The Bunny
James Morr
Located
1623
2004
Speed Demon!
Nick Maniatis
Located
1624
2004
The homework problem
(Het huiswerk probleem)
"yokie"
Located
1625
2004
The Factory Fix
Stephen Nolen and Austin Nolen
Located
1627
2004
Indiana Mississippi
Paul Cirigliano
Located
1628
2003
Batman: Revenge
Jonathan Markiewitz
Located
1629
2004
Breaking News
Andy Boyer and Dave Lennie
Located
1631
2004
The Parrot
Mark "Plastik Brik Studios"/"skudmunky" Williams
Located
1632
2004
Mediocre Hour: Eps#03:
Missionaries @ the Door
Lewis Chen
Located
1633
2001 - 2004
Deep Breathing: Special Edition
Tony Johnson and Daniel Sommermann ("SnS Films")
Located
1635
2004
Legozilla Vs. Robot Guy
"Lego Guy Productions"/"LG"
Located
1637
2004
Battle of the Bulge
Nathaniel Hendricks
Located
1639
2004
The Ghost of the Faceless Man
Jesse "J-Cam Films" Prince
Located
1640
2004
The Snowball Fight
Sean Lyon and Arran Lyon
("Lyon Studios")
Located
1641
2004
Fight Scene
Sean Lyon and Arran Lyon
("Lyon Studios")
Located
1642
2004
Pirate Troubles
"Tervuren"
Missing
1643
2004
The Man With No Face
"Legolians Productions"
Located
1644
2004
Alabama Jones and the Lost Topping of Doom
Curt Werline
Located
1646
2004
Lost and Found
Scott "allabouttrueu" Martin
Located
1647
2004
Daedalus and Icarus
Stefan van Zwam
Located
1648
2004
Haunted Castle
"Mr.Smithee"
Located
1649
2004
Rocketmen vs Robots Episode 4: Rocketmen Zero
David T. Krupicz
Located
1650
2004
GTA Lego City
Stefan Schlecht and Markus Mair
Located
1652
2004
Le Ciel est Bleu
"steric"
Located
1653
2004
Mr Mortintoj
Viljami Teekkinen and Ilmari Teekkinen
Located
1654
2004
Surreal 1 1/4: The Prisoner
James Morr
Located
1656
2003
Partenaire LEGO
"France et Alex"
Located
1660
2004
Imagine That!
Rachel Dew
Located
1661
2004
Just a Political Brickfilm
Jonathan Schlaepfer
Located
1663
2004
Ed and Phil
Andrew "willy trombone" Beach
Located
1664
2004
The Johnny Thunder Show
Dan Esparza and Brian Miller
("Brick Pictures")
Located
1665
2004
Mediocre Hour: Horror Special
Lewis Chen
Located
1666
2004
Road Rage
James Morr
Located
1667
2004
White
James Morr
Located
1668
2004
The Policeman (part 1)
"Daniel"
Located
1670
2004
Joe Canadian Rant in LEGO
Curtis "Yo-Blob" Mutter
Located
1671
2004
Star Wars Episode I (Part I)
"svern'o"
Missing
1672
2004
Julius Caesar
"SilverWings Productions"
Located
1674
2004
The Secret of Monkey Island 1¾
Jonathan Williams
Located
1675
2004
Mr. Miyagi Music Video
Stephen Nolen
Located
1676
2004
Legoprise II
Alexander "Dead-Eye" Injac
Located
1677
2004
goodfilms
(A Good Film, A Gooder Film, Wig Wars)
Rory Byrne and Evan Gibbons ("RorieundEaun")
Located 2/3
1680
2004
First Car
Sean "sean-mation" Bartlett
Located
1681
2004
LEGO Star Wars
Mark "MRH" Hammelman
Located
1682
2004
What Should You Do?
"Legolians Productions"
Located
1684
2004
The Snowman
Kyle Prohaska
Located
1685
2004
Showdown
"Erk&Felix"
Missing
1688
2004
LEGO Paintball 1.0
"BRICK MAN"
Located
1689
2004
The Dick Van Dyke LEGO Show
Nathaniel Hendricks
Located
1690
2004
Magic Trick
Sean "sean-mation" Bartlett
Located
1691
2004
Burger Joint
Nathaniel Hendricks
Located
1692
2004
The Food Search
Jesse "J-Cam Films" Prince
Located
1695
2004
Great Escape
Aaron "Lime Lite Productions" Leming
Located
1697
2004
Meatloaf
James Morr
Located
1698
2004
The Invasion
Keiren "Jollybrick Studios"/"Cyclonis" Benjamin
Located
1699
2004
A Bob Short
"Funny Monkey Studios"
Located
1700
2004
This is Charlie.
Brendan Henry
Located
1701
2004
His Cheeseburger
Gareth "Gary13" Branscombe
Located
1702
2004
Final Fantasy LEGO
"Legham and SuperSayinHi"
Missing
1705
2004
God
Eric "Erlic" Duvall
Located
1706
2000
Audrey III
Michael "GrizzlyMotion" Braun
Located
1707
2004
LEGO-TEAM
"France et Alex"
Located
1708
2004
Twisted
Chris Salt
Located
1709
2004
The Brick Gulch Chronicles
Chris Salt
Located
1712
2004
Soccer Maniac
Martin Bretzer and Tobias Becker
Located
1714
2004
LEGO Wars: Part II: The Staff of Maniac
Lewis Chen
Located
1715
2004
Grand Theft Auto: San Andreas
Tom S. and Vincent D. ("TV Productions")
Located
1717
2004
Limbo
Richard "Count Orlock" Chavez
Located
1719
2004
Ambush
Mark "Plastik Brik Studios"/"skudmunky" Williams
Located
1720
1989
The Magic Portal
Lindsay Fleay
Located
1721
2004
Kymmeten Balickka
Viljami Teekkinen and Ilmari Teekkinen
Located
1722
2004
The Seige of Pemperton Manor
David Gutzwiller and David Ebbeler
("Spike & Gorik")
Located
1725
2004
Mirror Star
Stephen Nolen
Located
1726
2004
The Alphabet
Henry Shew
Located
1728
2004
Monday
James Morr
Located
1729
2004
Twenty Thousand Leaks Under the Sea
Nathaniel Hendricks
Located
1731
2004
Nine Elements, One Problem
Lewis Chen
Located
1732
2004
The Twelfth Labor of Hercules
Jonathan Schlaepfer
Located
1733
2004
Joy's Jewel
Nathan "LGM" Dunlap
Located
1734
2004
The Star of Five Treasures
Nathaniel Hendricks
Located
1735
2004
Meta Mania!
James Morr
Located
1738
2004
Iso Bal Music Video
Viljami Teekkinen and Ilmari Teekkinen
Located
1739
2004
A Farmers Tale
Jeremy Markowitz
Located
1740
2004
Nina in No Limits
Skye "FLL-Freak" Sweeney
Located
1742
2004
The Faceless Swordman
"Hannes & Timo"
Missing
1743
2004
Too Late
Robinson Wood
Located
1744
2002
To Fly is Everything!
Jason Herder
Located
1745
2004
Attack of the LEGOs: Revenge of the Order of Darkness
Chris Boyer and Brian Bridges
Located
1746
2004
One Night
Andrew "willy trombone" Beach
Located
1747
2004
Stilts
Toph Beach
Located
1748
2004
Police accident
James "Redmurunga" Berridge
Located
1749
2004
The Boogieman
Jesse "J-Cam Films" Prince
Located
1750
2004
Cars Kill
"Legolians Productions"
Located
1751
2004
The True Rudolph Story
Tyler "Tye" Campbell
Located
1753
2004
Water Massacre
Brandon Campbell
Located
1754
2004
Tribal King
Tyler "Tye" Campbell
Located
1755
2004
Fruitcake
James Morr
Located
1757
2004
Dinner Meeting
Marc "GopedGuy"/"Exile Films" Pierson
Located
1758
2004
Interference
Nick Maniatis
Located
1759
2004
Dr. Cranium
David Vann
Located
1760
2004
The Golem Christmas Special '04
Felix Czepluch
Located
1761
2004
Cold Comfort
Robert Frost
Located
1762
2002
Escape
Justin Bush & James West
("J&J Lego Group")
Located
1763
2004
The Twelve Pains of X-mas
Lewis Chen
Located
1764
2004
Christmas?
Eric "Erlic" Duvall
Located
1766
2004
Mad World
Sean "sean-mation" Bartlett
Located
1767
2002
Uber-Freak
Nate Burr
Located
1768
2002
Painting the Town Red
"Sant and Mister 8 (Pregant Embryo)"
Located
1769
2002
The Game
Nate Burr
Located
1771
2002?
Not About You
"Stone Silent Productions"
Located
1773
2004
Joe
Eric "Erlic" Duvall
Located
1775
2004
Anne Frank in Bricks
Tom Dean
Located
1776
2004
Franz
Nicolas Pesce
Located
1777
2004
I Hate 'LEGO' Christmas
Nate "Yatesnonose" Arnold
Located
1779
2004
Faceless
Eric "Erlic" Duvall
Located
1780
2005
Indian Nation
Stephen Nolen
Located
1788
2004
Greedy Bricks
Mirko Horstmann
Located
1790
2005
Fight Club: ASS
Daniel "Idiotless" Ernst
Located
1791
2005
The Joker
"Swanky Bricks Production"
Missing
1793
2005
Rain!
Tyler "Tye" Campbell
Located
1794
2004
Hidden Treasure
Gerard "Jahard" Pattenden
Located
1796
2005
The Odyssey: Books 21 and 22
Jonathan Schlaepfer
Located
1800
2005
Somewhere I Belong
Sean "sean-mation" Bartlett
Located
1801
2005
The Star Destroyer Potemkin
Karsten "Iron Brick" Köhler
Located
1804
2005
Evolution
James Morr
Located
1805
2002?
Captain's Nightmare
Jonathan Markiewitz
Located
1807
2004?
Legolars
"Thadlerian"
Located
1808
2005
Anne Frank in Bricks
"Lego Guy Productions"/"LG"
Located
1809
2004
Perspective
Brendan Henry
Located
1810
2005
Death Carries a Big Stick
Nate Burr
Located
1811
2004
Sai the Magic Word
Nate Burr
Located
1812
2005
Fallen: Part One
Brendan Henry
Located
1814
2005
The Crypt
Tim Scully and Jamie Alexander
Located
1815
2005
Freestyle Skateboarding
"Thundershock Films"
Located
1816
2004
Pertinacity
Christoph Brock
Located
1818
2005
Cup Cake
Sean "sean-mation" Bartlett
Located
1821
2005
His Mind's Account
Justin "unfoldingmetal" Tomchuk
Located
1824
2005
LEGO Skater
"BRICK MAN"
Located
1828
2005
Knights Tournament
"BRICK MAN"
Located
1829
2004
Star Trock EP 1
Raphael "Watch me Projects" Nestler
Located
1831
2005
Over the Edge
Tom S. and Vincent D. ("TV Productions")
Located
1832
2005
Dude!
Stephen Nolen
Located
1833
2005
A Day In The Life Of An FBI Agent
Robert Doucette
Missing
1836
2005
The Dentist
"Temple Films- Monko"
Located
1838
2004?
Spiderman vs. Doc Ock
Austin "Jedi Knight" Lamb
Original file corrupted
1839
2005
Papercut (fragment)
Mathias Mertens
Located
1840
2005
Kick Me
"Goofy Goober Inc"
Located
1842
2004
Crash and Die
Richard "Count Orlock" Chavez
Located
1846
2005
The Rescue
Michael Milson
Missing
1847
2005
The Accident
Michael Milson
Missing
1848
2005
Battle of the Bold
"Swanky Bricks Production"
Missing
1849
2005
The Mutent
"Goofy Goober Inc"
Located
1850
2005
Medolia Bricks
Viljami Teekkinen and Ilmari Teekkinen
Located
1852
2005
Rex Steps Video
Viljami Teekkinen and Ilmari Teekkinen
Located
1853
2005
McBeth in Two Minutes
Leftfield Studios
Located
1855
2005
Porukka People Music Video
Viljami Teekkinen and Ilmari Teekkinen
Located
1857
2005
Monsters from the ID
David Vann
Located
1858
2005
Minerva Machine
Viljami Teekkinen and Ilmari Teekkinen
Located
1862
2005
The Bank Robbery
Alex Gambrel and Robert Doucette
Missing
1873
2005
The LEGO Clan - Part 1
Jonny Paquette
Located
1886
2005
I Wanna Rule the World
Surge Levene and Klim Levene
("Deacon Blues")
Located
1887
2005
AnimatorDV Contest Entry
Bert Loos
Located
1897
2005
Reanimate Your Life
Christoph Brock
Located
1898
2005
Aufwachen
Jesse "pito" Krauß
Located
1899
2005
Joe and the Monopoloticious Terrorists
"superfellow"
Located
1900
2005
Car Thief
Arnout "CrystalBrick" van der Maas
Located
1902
2005
Revenge of the Daylight Werewolves
James "Redmurunga" Berridge
Located
1904
2005
WEATHER
Nathaniel Hendricks
Located
1905
2005
Duel
Alan "Amped" Menhennet
Missing
1906
2005
Soldat
Alan "Amped" Menhennet
Missing
1907
2005
Bunny Apprentice
Alan "Amped" Menhennet
Missing
1909
2001
Haunted
David Pagano
Located
1910
2005
Xuan Zang
Ian Hirschfeld
Located
1911
2005
Bricks in Love
Steffen Troeger
Located
1914
2005
Dave's Monday
Roland Szentesi
Located
1915
2005
Guy's Day and Girl's Day Ad
Robinson Wood
Located
1916
2005
AnimatorDV Ad
Stephen Nolen
Located
1917
2005
AnimatorDV Advertisement
David Pagano
Located
1920
2005
The Door and Beyond
Zach Macias
Located
1921
2005
James Bond
Patrick Beardmore
Located
1922
2005
Thunderbirds
Nils "X-citing studios" Steyaert
Located
1923
2004
The Great Race
Ginny "Qui-Gon Ginny" Wood
Located
1925
2005
The Day I Parked My Car
Henry Shew
Located
1928
2004?
Brick Trek
David Vann
Located
1929
2005
LEGO Lone Ranger- Redskin Uprising
Jonathan "Jons Studio" Sauder
Located
1934
2005
Star Wars III: The Return of Jar Jar Binks
Greg Macdonald
Located
1935
2005
Star Wars IV: The Revenge of the Jedi
Greg Macdonald
Located
1936
2004
Gashimalatata
Cypher Labs Studio
(David "Galactik" Fuoco, James Morr, Alan "Amped" Menhennet, Wesley "tub-o-legos" Robertson, Austin Jaeger, Patryk Wawer, Tim Hui)
Located
1937
2005
Young Knight
Gerard "Jahard" Pattenden
Located
1940
2005
Ickka Bickka
Viljami Teekkinen and Ilmari Teekkinen
Located
1942
2005
Nuffin Zon
Matthew Gray and Adam Gray
Located
1943
2005
Attention Soldier!
Greg "Moth Studios" Ashworth
Missing
1944
2005
Splinter LEGO
"Kittler"
Located
1948
2005
Hit the Target!
Jonathan "Jons Studio" Sauder
Located
1951
2005
Sniper Man
Lee "chunky studios"/"lee123" McHale
Located
1953
2005
The Jedifight
Daniel "Daniel Animations" Kainz
Located
1955
2005
Pawnshop Orchestra - Mein Herz
Daniel Decker
Located
1956
2005
Cognizance
Michael J. Green
Located
1958
2005
The Great Restaurant Robbery
Daniel "Darth Fluffy" Flucke
Located
1959
2005
Copyright Craze
Matthew Lieberman and Cody Lieberman
Located
1960
2005
Little joke
"France et Alex"
Located
1961
2005
Contains Small Parts
Matthew Gray and Adam Gray
Located
1962
2005
Depressed Bruce
Nate Burr
Located
1966
2005
Brickfilm Adventures: Episode 1 - Stairway to Heaven
Andrew "AMT Studios" Theis
Located
1967
2005
She Blocked Me
"David Dodger Stickman"
Located
1970
2004
007 in The Man Who Killed Me Once
HOViNET team
Located
1971
2003
Postman Pat
HOViNET team
Located
1974
2003
Zurück in die Vergangenheit
(Back to the Past)
Thomas Zeug
Located
1975
2005
Zurück in die Vergangenheit 2
(Back to the Past 2)
Thomas Zeug
Located
1976
2002 - 2005
Grand Theft Auto (Directors Cut)
Patryk Wawer
Missing (original edition located)
1977
2005
The Fight for Castle Stoneworthy
Ian Hirschfeld
Located
1978
2005
Trollkotze - Die Knoedelmiliz
Daniel Farkas
Located
1979
2005
Cousinjade film
Viljami Teekkinen and Ilmari Teekkinen
Located
1981
2005
The Chick
Nils "X-citing studios" Steyaert
Located
1985
2005
A Thing Through a Door
"TechnoGiz"
Missing
1987
2005
iTater
James Morr
Located
1990
2005
Chase/Flow
Viljami Teekkinen and Ilmari Teekkinen
Located in GRREENERED
1994
2005
The Adventures of Spider-Man: Arms of Love
Andreas "IceMan" Basurto
Located
1996
2005
Beer
"David Dodger Stickman"
Located
1998
2005
Ziggurats: the Movie
David "DTG Productions" Waugh
Located
2000
2005
The Painter
Kevin Horowitz
Located
2013
2005
Accident at Crystal Café
"LTS Films"
Located
2014
2005
Jiu Jitsu
Fabrice "Homestudio" Müller
Located
2017
2005
Ugly Girl
"David Dodger Stickman"
Located
2021
2005
Star Wars: The Final Strike
Nathan Mancini
Located
2023
2005
The Accident
David "Dementeddave" Lewis
Located
2024
2005
Mission Space
Kevin Horowitz and Jacob Schwartz
Located
2025
2005
Role Reversal
Jacob Schwartz
Located
2029
2005
Ninjas and Pirates
"matias"
Located
2031
2005
AFeB
Bert Loos
Located
2039
2003
2004 Space Odyssey
"Zav"
Located
2040
2004?
A LEGO Western
Curtis "Yo-Blob" Mutter
Original file corrupted
2044
2005
HP-5-OoP-Legotrailer
Mario Baumgartner
Located
2050
2005
Surreal 1/6: %$#& Yeah!
James Morr
Located
2059
2005
Sniper Man 2
Lee "chunky studios"/"lee123" McHale
Located
2060
2005
Sign Language
Daniel Holmes
Missing
2064
2005
Surreal 1/5: DDG
James Morr
Located
2071
2005
Everything's Ok
Evan "Glowing Box Studios" Travers
Located
2080
2005
Seabattle [Seeschlacht]
Pinus "Fenrir" Hauser, Milan "M" Bolland and Jonathan "Feuerfuchs" Denecke
("Lux-Studios")
Located
2083
2005
Surfin' Safari
Nathan Mancini
Located
2085
2005
Attack of the Evil Robotic Turkey [From Outer Space]
Chris Boyer and Brian Bridges
Located
2086
2005
The Iceplanet
Martin "mad" Drucker
Located
2092
2005
Dark Bricks
Lee "chunky studios"/"lee123" McHale
Missing
2097
2005
Round
"matias"
Located
2099
2005
Revenge of the LEGO Man!
"Grey Car Productions"
Located
2100
2005
Be Not Afraid
Kristian Sandberg
Located
2101
2005
Imperial Intelligence
"Ticket"
Located
2103
2005
The Gubbes
HOViNET team and "No Life Productions"
Located
2112
2005
Pursuit [Verfolgungsjagd]
Pinus "Fenrir" Hauser, Milan "M" Bolland and Jonathan "Feuerfuchs" Denecke
("Lux-Studios")
Located
2116
2002
The Juggler
Nick Maniatis
Located
2117
2002
Pirates
Klaus "Bob Bongo" Wagner
Located
2118
2001?
Various shorts
(StopMoTest, Swordfight, Animator, Dino)
Mike Yacullo
Located
2119
2001
The Job
Aaron Puzey
Located
2120
2000
Jar Jar Binks and the French Revolution
Marc Atkin
Located
2122
2005
Pacman
Kevin Horowitz
Located
2124
2005
Star Wars Episode VII The Return of the Sith
Isaac Stroupe
Located
2128
2005
Hypertension
Logan Wright
Located
2135
2005
Bang-Bang
Roland Szentesi
Located
2137
2004
Failed Inventions: Studio Tour

Wesley "Ye Olde Bonzai! Studios" Robertson

Located
2144
2004
Nameless
Tuomo Ranto
Located
2145
2005
Twisted Nerve
Jeroen Willemse
Located
2146
2005
GRREENERED
Viljami Teekkinen and Ilmari Teekkinen
Located
2151
2005
Jungle Fever
Tim Hui
Located
2152
2005
Anne Frank in Bricks
James Morr and Alan "Amped" Menhennet
Located
2154
2005
The Job - Der Auftrag
Cornelius Koch and Theodor Becker
Located
2155
2005
Walk With Confidence
Andreas "IceMan" Basurto
Located
2156
1999
Corporal Dan Revelations
Colin Williamson
Located
2157
2005
Pirates!
"MuteMan986"
Missing
2158
2005
Blambo Part II
Ian Hirschfeld and Logan Dwight
Located
2161
2005
7 Project
(House, Check Out, Mr Happy, Heaven and Hell, Get Back, Ninja Trouble, Statue, Pit Crew, Creepy Door, Box Boy)
Alan "Amped" Menhennet
Located 3/10
2166
2005
About a Wall
Roland Szentesi
Located
2179
2005
The Search for the Sound
Marc "GopedGuy"/"Exile Films" Pierson
Located
2181
2005
Damsel in Distress?
Curt Werline
Located
2184
2005
Apprentice
Brendan Henry
Located
2185
2005
In Deep Royal Water
Steffen Troeger and Sandra Abele
Located
2189
2005
The Human Statue
Max "Super Cameraman" Goldberg
Located
2190
2005
Monkey Removal Man
"Hoogiman"
Located
2192
2005
Seppo: the Smoke-Gubbe
HOViNET team
Located
2193
2005
Gaminator: Episode I
"Darth"
Missing
2196
2005
About the Door
Chris LaRocca
Located
2199
2005
Weird Guy, Weird Problem
Roland Szentesi
Located
2201
2005
Attack of the Drones
Philip Heinrich and Spencer "Root Beer Studios" DeBrosse
Located
2203
2005
Special Deliverance
Leftfield Studios
Located
2205
2005
The Getaway
(Same number later replaced with a different film, The Tie Army Thread)
Aled Owen
Missing
2208
2005
The Spirit of Chuck Taylor
Marius "md1138" Druschke
Missing
2209
2005
Reckless Space
Daniel Jackson
Missing
2210
2005
Deli of Horror!
"LTS Films"
Located
2211
2005
Rick the Reject
Robert J Barnett
Missing
2212
2005
Monkey Hunting
Curtis "Yo-Blob" Mutter
Located
2213
2005
Bob
Nathan Mancini
Located
2214
2005
Rap 'n Zel
Roland Szentesi
Located
2215
2005
I can't watch this!
"BRICK MAN"
Located
2216
2005
Johnny's Island
Graeme Allen
Located
2217
2005
Sir Rapunzel
Freddy "Masked Bumhead Productions" Vinehill-Cliffe
Missing
2218
2005
Frankenstein
Robinson Wood
Located
2219
2005
About Rapunzel
Bert Loos
Located
2227
2005
Green Dudes From Mars
Julian "JCCLIPS" Chelo
Missing
2228
2005
Skell Boy
"Aus-Bos"
Located
2230
2005
A Quiet Evening
Christoph Brock
Located
2231
2005
Legless!
Tim Hui
Located
2233
2005
The Doughnuts
"Sweet"
Missing
2234
2005
Onorno
Bert Loos
Located
2236
2005
Don't Bug Me
Stephen Nolen
Located
2237
2005
Flux & Strength-Man!
Robinson Wood and Toph Beach
Located
2238
2005
Radioactive B-Movie
Chris Boyer and Brian Bridges
Located
2239
2005
The Dragon
Stefan van Zwam
Located
2241
2005
Gregor & Jörg - 1st Date
Tante Nena
Located
2242
2005
TV
Jonathan Schlaepfer
Located
2244
2005
Rapunzel
Chris "CJ Studios" J.
Missing
2245
2005
Super Pat
"BRICK MAN"
Located
2247
2005
Cowboy Hat
James Morr
Located
2249
2005
Encounter
Joseph Frank
Located
2250
2005
AntiD
Stephen Nolen
Located
2251
2005
Any Gal of Mine
Stephen Nolen
Located
2255
2005
Brick to the Future
Curtis "Yo-Blob" Mutter
Located
2256
2005
Who Killed the Cheerleader?
Freddy "Masked Bumhead Productions" Vinehill-Cliffe
Located
2257
2005
Bolt!
"Ticket"
Located
2259
2005
War Dawgz 1: Wormhole Gambit
Brett Mauser
Located
2260
2005
War Dawgz 2: Wrath of the Matriarch
Brett Mauser
Located
2261
2005
Repent (Rough Cut Version)
Lewis Chen
Located
2263
2005
A Routine Flight
Daniel W. Rickey
Located
2264
2005
TWT: 67
Bert Loos
Located
2265
2005
General Movie
Robert Frost
Located
2270
2005
JungleBob's Adventure
"Swanky Bricks Production"
Missing
2275
2005
Babysitting Blunder
"Swanky Bricks Production"
Located
2276
2005
The Evilness Begins
Roland Szentesi
Located
2279
2005
Dogfood
James Morr
Located
2280
2005
Jeff and Joe: Let's Watch This!
Chris "CJ Studios" J.
Missing
2282
2005
The Awakening
Ian Hirschfeld
Located
2283
2005
The Bus Stop
Ben Petersen and David Prenshaw
Located
2284
2005
Flight of The Penguin
Kevin Horowitz and Jacob Schwartz
Located
2287
2005
His Master's Plan
Stefan van Zwam
Located
2289
2005
Normal Morning
Cory "Zenitite" Bujnovicz
Located
2293
2005
Da Europeans Part I
Roland Szentesi and Bert Loos
Located
2296
2005
The Bad Day
Zach Macias
Located
2297
2004
Security Nights
Richard "Count Orlock" Chavez
Located
2300
2005
A Day at the Theatre
Zach Macias
Located
2301
2005
Paul in Damascus
Samuel Keil
Located
2302
2005
War Dawgz 3: Dawgz of War
Brett Mauser
Located
2311
2005
Sunday Drive
Jamie Biggs and Damien Biggs
("Livingwood Studios")
Located
2313
2005
Wicked WaterWay
Marc "GopedGuy"/"Exile Films" Pierson
Located
2314
2005
Demented Cashier
Graeme Allen
Located
2315
2005
LEGO Men in CG? A tribute to brickfilms.
Nathan "LGM" Dunlap
Located
2335
2005
Demented Cashier 2
Graeme Allen
Located
2343
2005
All Hallows Steve
Nate Burr
Located
2344
2005
See No Evil
Nate Burr
Located
2346
2005
Hello Ween
Roland Szentesi
Located
2352
2005
Pictures He Drew
Stephen Nolen
Located
2353
2005
Robin Hood -in action
Samuel Keil
Located
2356
2005
Geek-Co
Jacob Schwartz
Located
2367
2005
The Little Old Lady From Pasadena
"BRICK MAN"
Located
2371
2005
Speak
Rachel Dew
Located
2376
2004
Crosswalk
Mark "Plastik Brik Studios"/"skudmunky" Williams
Located
2377
2005
Leave it to Beaver: Wally's Bet
Garrison Benson
Located
2379
2005
Rainbow Troops
HOViNET team
Located
2387
2005
Navijades
Viljami Teekkinen and Ilmari Teekkinen
Located
2390
2005
Bad Syrup
"Boleg Bros"
Located
2394
2005
Star Wars Episode I: Darkness Falls
David "StatlerFilms" Statler
Located
2397
2005
Christmas with Little Studios
Daniel Holmes
Located
2402
2005
Haste Makes Waste
Derek Whitten
Located
2406
2005
A LEGO Christmas
"Big Light"/"legofan"
Located
2412
2005
It Came From the Past
Jarret W.
Missing
2416
2005
Crappy ThanksGiving
Simon Vincent
Located
2417
2005
Winona's Idea
Wilson "838 La" La
Located
2418
2005
Robota
Marc Beurteaux
Located
2424
2005
Stolen Property
Gerard "Jahard" Pattenden
Located
2425
2005
La Surprise
Jeremy Richard
Located
2431
2005
A Politically Correct Holiday Message...
Lewis Chen
Located
2432
2005
A Christmas Surprise
Nathan Mancini
Located
2433
2005
Josh's New Webcam
Graeme Allen
Located
2458
2005
Tough Questions
Chris Salt
Located
2467
2005
Faceless
Austin "Jedi Knight" Lamb
Located
2478
2006
Varied Darkness
Doug "dvondrake" Tyrrell
Located
2482
2005
Conflict
Vlad "vrevolution" Lunin
Located
2483
2005
Headache-key
"France et Alex"
Located
2487
1998
Ein Koenig reich (The King's Kingdom)
Peter Tritthart
Located
2490
2006
The Spider
Chris "CJ Studios" J.
Missing
2509
2006
Material Possessions
Nathan Wells
Located
2510
2006
Stoic
Nathan Wells
Located
2511
2006
The Shopping List
Judah Frank

Located in very low quality

2512
2006
Them Twickenham Knights: Professionals at Work
Sven van der Hart
Located
2513
2005
Better Late Than Never
Robert Graff
Located
2514
2005
Merry Happy Whatever
Zach Macias
Located
2515
2006
Ripou (Crooked Cop)
Jeremy Richard
Located
2516
2006
The Library

"Black Belt Poetry Productions"/"minibeast198"

Located
2517
2006
S.W.A.T.U.
"Mutant Monkey Studios"
Missing
2526
2006
BSOD
Doug "dvondrake" Tyrrell
Located
2533
2006
Mission Impossible Jim
Rich Petty
Located
2534
2006
LEGO Dream
Stephen Evans
Located
2537
2006
Twin Bricks
"Pingo"
Missing
2538
2006
Boris and Vomit
Freddy "Masked Bumhead Productions" Vinehill-Cliffe and Robert "Deflated Hippo Corp." B.
Located
2540
2005
1985
Stephen Nolen
Located
2541
2006
Sergei's Career
Richard "Ricky Brickflic" Lynch
Located
2554
2006
P.E.T.A. and the Hat (PatH)
Markus "TitanFilm" Lütkemeyer
Located
2555
2006
BSN News
Calvin Cruz
Located
2557
2006
Disappointed?
HOViNET team
Located
2561
2006
Dexter the Dog
"Sean9"
Located
2563
2006
The Novatek 23-i
Rich Petty
Located
2564
2006
Just Push Play
Graeme Allen
Located
2566
2006
The Laws of Sir Isaac Newton
Zach Macias
Located
2567
2006
Old & Weak
Gabriel Bremler
Located
2571
2006
System Reboot
Colin Boyle
Located
2572
2006
System Reboot
Robinson Wood and Joshua Leasure
Located
2573
2006
Unmasked
Leftfield Studios
Located
2575
2006
Ocean Odyssey
Skye "FLL-Freak" Sweeney and Ken Streeter
Located
2577
2006
A Million Manias
Freddy "Masked Bumhead Productions" Vinehill-Cliffe
Located
2578
2006
Happy Birthday, Auntie Trien
Bert Loos
Located
2580
2006
Skywalker Wrench
Ryan "Shadow the Rebel" Lorg
Located
2591
2006
Chary
Judah Frank
Located
2594
2006
Elements
"David Dodger Stickman"
Located
2599
2006
Outside
James Morr
Located
2603
2006
Mission Impossible Jim 2
Rich Petty
Located
2607
2005
The Truth (Wembley Goal '66)
Uni Luebeck students
Missing
2617
2006
Hide and Suck
Colin Boyle and Jason Boyle
Located
2618
2006
Signs of Life
Jason Boyle
Located
2621
2006
The Curse of Old Joe
Dani "DaNDO" Smith
Located
2624
2006
Mission Space 2
Kevin Horowitz and Jacob Schwartz
Located
2630
2006
Tom's Fun Day
Mike "MrMikeG" Gallardo
Located
2632
2006
Fahrenheit 451
John "jahmagic" Harris
Located
2642
2006
Binärwiese
Oliver "th0rn" Auditor
Located
2651
2006
The Appointment
Heinrich "Hepe" Petri
Located
2653
2006
El Restaurante
Nathan Mancini
Located
2661
2006
The Secret
Mario Baumgartner
Located
2666
2006
The Adventures of Mr. Zomga
Scott Riegel
Missing
2669
2006
Legolax Vs. Ostridge
Glougnouf "moo animations" Krutzofprutz
Located
2670
2006
Signs of Life
Karsten "Iron Brick" Köhler
Located
2671
2004
LEGO RPG: The Movie
Ryan Tyrrell
Located
2673
2006
The Champion
Gabriel Bremler
Located
2686
2006
Clean Your Room!
Johnny Moa
Located
2688
2006
A Mothers Day Surprise
Ryan D.
Located
2689
2006
The Diary of Anne Frank
KrickFilms
Located
2692
2006
Channel Surfing
Mark Wanninger
Located
2704
2006
Gefunden - Found (by Goethe)
Steffen Troeger and Sandra Abele
Located
2710
2006
The Fisherman and his Wife
Mirko Horstmann
Located
2741
2006
Hamlet
Vlad "vrevolution" Lunin
Located
2745
2006
Return to Sender
Batze "cone pictures" W.
Located
2747
2005
The Blob
Lee "tgmjr" Parks
Located
2749
2006
Table Top Metropolis
Curtis "Yo-Blob" Mutter
Located
2750
2006
Macbeth: Act 5 Scene 7
Zach Macias
Located
2751
2006
The Good Samaritan
Joel Plosz and Tegan Barr
Located
2752
2006
Deep Space
Matthew Lieberman and Cody Lieberman
Located
2754
2005
The Bank Assault - Der Bankraub
Nico "LEGOvision" Bekasinski
Located
2768
2006
Tetris
Marc "White Guy on a Stick" H.
Located
2772
2006
El Yelmo de Mambrino
David "DTG Productions" Waugh
Located
2773
2006
Storm-o-lympics
Eric "gnireot" Toering
Located
2780
2006
Who I Am Hates Who I've Been
"TDe88"
Missing
2783
2006
Dylan and Phil
Johnny Moa
Located
2789
2006
Incognito
Ryan Boyle
Located
2793
2006
L'Inspiration
Jeremy Richard
Located
2797
2006
Star Wars: Station Tribulations
Philip Heinrich
Located
2799
2006
Williams Reading Theatre
Curtis "Yo-Blob" Mutter
Located
2800
2005
Cleaning Time: The Janitorial Contingency
Tom Dean and Community Project Team
Located
2804
2006
Rainbow Six Team Alpha
"LegoSquad"
Missing
2806
2006
Cow
KrickFilms
Located
2809
2005
Dr. Jobs and his Scary Laboratory Part-1
Fumitaka Anzai
Located
2811
2006
Looked
Mark Wanninger
Located
2816
2006
Carnage
Brian "brianfast" Gorman
Located
2821
2006
Hungry-Tribe
Jesse "Bastetta" Manschot
Located
2823
2006
Versuch Nr. 99
Dania Meier, Hanspeter Müller and Dominik Sommer ("mbc")
Located
2824
2006
The Salesman
Daniel Holmes
Missing
2830
2006
15 Minutes
Rich Petty
Located
2838
2006
Larry and Jasper
Nathaniel Hendricks
Located
2840
2006
Escape
Joonas Alitalo and HOViNET team
Located
2847
2006
Parody^3: 'About a Door'
RC Walters
Located
2848
2006
Confront
HOViNET team
Located
2853
2006
Ninja
KrickFilms
Located
2864
2006
Brickfilmer Vs. Brickman
Johnny Moa
Located
2871
2006
Faithless
Matthew Gray
Located
2874
2006
The Burglar
Brennan Davis and Kelton Davis
Located
2876
2006
The End of Brickfilms
Grant "LegosJedi" Butler and "crashpilot"
Located
2879
2006
The Brick Zone: Thaddeus and the Elevator
Ben Boatwright
Located
2881
2006
Climb So High
Colin Boyle
Located
2882
2006
The Battle of Bjorn Ironside
Jason Boyle
Located
2886
2006
Soldering Your Balls Saves Marriages
Tim Hui
Located
2888
2006
Capastroid
Jonathan Vaughan
Located
2889
2006
Ultimate Frisbee
Chris Masterson and Ara Nerssessian
("Masterson/Nerssessian Productions")
Located
2892
2006
The End
Graeme Allen
Located
2894
2005
Bounty
Brendan Henry
Located
2896
2006
Hostage
Rich Petty
Located
2900
2006
The End of the Beer
Matt Gillan
Located
2901
2006
The Summer List
"Sean9"
Missing
2902
2006
Attack of the Undead Skeleton Warriors
Nikolas Jaeger
Located
2903
2006
Escaping Doomsday
Nikolas Jaeger
Located
2907
2006
Birthday Cake
Ryan Boyle, Colin Boyle and Jason Boyle
Located
2909
2006
pwnd
Nathan Wells
Located
2914
2006
Basic Instinct
Ryan Boyle
Located
2915
2006
Chase of Horror
Martin Bretzer and Tobias Becker
Located
2918
2006
The Man with the Top Hat
Jonathan Vaughan
Located
2923
2006
Feel Great
Nathan Wells and Zach Macias
Located
2924
2006
Fart Jokes
KrickFilms
Located
2925
2006
Club Foot Music Video
Adam Droy
Located
2927
2006
Irascible
Graeme Allen
Located
2928
2006
Mr.Chang
"Eyes"
Located
2930
2006
Star Wreck 7 - In the Pirkending
Alexander "AMW Productions" Wlk
Located
2932
2006
Turning 18
Jonathan "LegobrosJon" Marrero
Located
2934
2006
Anatine
KrickFilms
Located
2935
2006
Larry the Last Human
KrickFilms
Located
2940
2006
Triumph of the Empire
Brendan Henry
Located
2942
2006
The End?
Ryan D.
Located
2943
2006
A Dangerous Calling
"Holgor"
Located
2944
2006
To Strive for Fame
Zach Macias
Located
2945
2006
The Chronicles of Time
Kevin Horowitz and Jacob Schwartz
Located
2946
2006
Groundhog Trouble
Colin Boyle, Jason Boyle and Ryan Boyle
Located
2948
2006
True Love Waits
Chris Boyer and Brian Bridges
Located
2951
2006
The Crow and the Fox
"France et Alex"
Located
2956
2006
The Alchemist: Santiago Meets the Old Man
John "jahmagic" Harris
Located
2964
2006
Pesky Owls
Colin Boyle
Located
2967
2006
Negotiations
Judah Frank and Joseph Frank
Located
2968
2006
Beast
Nathan Wells
Located
2969
2006
Spoilerz!
Nathan Wells
Located
2970
2006
Slapstick
Nathan Wells
Located
2971
2006
John Thomas and Captain Dick
"Pointless Studios"
Located
2972
2006
Don't Mess With Rich Fools
(Recut)
Chris LaRocca
Located
2973
2006
Back to School Nightmare
Zach Macias
Located
2978
2006
Billingsgate
Zach Macias
Located
2981
2006
The History In Thirty Seconds Series: The Wright Brothers
Colin Boyle
Located
2983
2006
Grace
Robinson Wood
Located
2984
2006
Cozen: A Dictionary Film
"MiniMation"
Located
2986
2006
Worst Case Scenario III
Bob Page
Located
2987
2006
Ghost Train
Ben Morson and Mich Scott
Located
2988
2006
Melodramedy
Robinson Wood
Located
2990
2006
The Abandoned Horror
(in color)
Jeremy Wisoff
Located
3000
2006
Dino Crises
Matt Gillan
Located
3002
2006
Douleur
Jeremy Richard
Located
3014
2006
Halloween with Gary
Jonathan "LegobrosJon" Marrero
Located
3015
2006
The Paranormals
Griffin "tripod" Holmes
Located
3020
2006
The Krick Films Halloween Special
KrickFilms
Located
3021
2006
The Crucible Trailer
Curtis "Yo-Blob" Mutter
Located
3023
2006
Halloween In A Pumpkin Rind
Jason Boyle
Located
3025
2006
Tectonic Man
Brennan Davis and Kelton Davis
Located
3028
2006
w00t!
Nathan Wells
Located
3029
2006
A [Post] Halloween Extravaganza
Zach Macias
Located
3030
2006
Der Kaufmann von Venedig
"Holgor"
Located
3036
2006
Silence in the Black
Daniel Holmes
Located
3042
2006
Turkey Day
Jeremy Wisoff
Located
3046
2006
The Pilgrims' Turkey
Jason Boyle
Located
3051
2006
Christmas with Little Studios 2
Daniel Holmes
Located
3053
2006
Video Rental
Ryan Boyle
Located
3057
2006
Restaurant
Jeremy Wisoff
Located
3058
2006
Arachnids 2
Cole McLeod
Located
3060
2002?
Star Trek: Captain's Nightmare
Jonathan Markiewitz
Located
3063
2003 - 2006
Batman: Revenge (Special Edition)
Jonathan Markiewitz
Missing (original edition located)
3065
2006
The War of the Worlds: Part I: The Coming of the Martians
"Willy Joe"
Located
3066
2006
Star Trek: P.S.A
Terrence "Teresh" Donnelly
Located
3082
2006
The Lonely Number
Matt Gillan
Located
3085
2006
Christmas with Gary
Jonathan "LegobrosJon" Marrero
Located
3086
2006
Mirrored Perspective
Zach Macias
Located
3091
2006
The Krick Films Christmas Special
KrickFilms
Located
3093
2006
Encounter in the Lost City
Nikolas Jaeger
Located
3096
2007
America: Outlawed
Doug Vandegrift
Located
3102
2007
Metopic
Jeremy Wisoff
Located
3103
2006
A Very Merry Holiday Special with Alex & Derrick - & Alice!
Nathan Wells
Located
3108
2007
How to Rob a Bank
Pablo "Tatebrickfilms" Sanzo
Missing
3116
2007
Graveyard Meeting
Matt Gillan
Located
3117
2007
Soliloquy
Jonathan Williams
Located
3126
2007
The Tompa City Menace
Jonathan Vaughan
Located
3128
2007
Boooommm!
Alban Nanty
Located
3130
2007
Reminiscence
Henry Shew
Located
3142
2006
Back 2 Skool
James Morr
Located
3143
2006
Teh First Kwanzaa Birckfilm Evah olol
James Morr
Located
3148
2007
The Schla La Las - 1234
Ben Cowell-Thomas
Located
3152
2007
Harbinger
Bert Loos
Located
3167
2007
Himeji Castle
Jeremy Wisoff
Located
3169
2006
Farkle
KrickFilms
Located
3177
2007
NNN News Flash
David Pickett
Located
3195
2007
Beowulf
"Mr.Looter"
Located
3196
2007
Star Wars: A New Deficit
Philip Heinrich
Located
3202
2007
Batman: Faces of Evil
Patrick Kelly
Located
3207
2006 - 2007
War Dawgz Season 2
Brett Mauser
Located
3208
2007
Hey You
Jeremy Wisoff
Located
3210
2007
Kirk! Picard! Kirk!
Colin Boyle
Located
3211
2007
Conflict Redux
Vlad "vrevolution" Lunin
Located
3214
2006
The Curse of Toot-Un Com Onn
Curt Werline
Located
3219
2007
The Snowman
Joseph Hayden
Located
3220
2007
Losers!
Kelton Davis
Located
3223
2007
Spirit Stompers: The Ghostly Job
Jason Boyle
Located
3226
2007
Hungry Tribe 2
Jesse "Bastetta" Manschot
Located
3238
2007
B-Team intro
Pablo "Tatebrickfilms" Sanzo
Missing
3240
2007
Free Beer
Richard "Ricky Brickflic" Lynch
Located
3241
2007
Pirate's Quest
Scott "Uncle_Cheesedog" Loeppky
Located
3242
2007
Winter in the Park
Colin Boyle
Located
3247
2007
Crosshair

"Brickworks Animations"/"Legoman182182"

Located
3249
2007
The Easter Meal
Thomas Missault
Located
3252
2007
Over the Apple Tree, Under the Hill
(Part 1, Part 2)
Kim Gohlich
Located
3254
2007
Zorro
Spencer Olson
Missing
3261
2003
Prisoner John 3: Back and Pissed!
Elie Zananiri
Located
3262
2002
Prisoner John Strikes Back!
Elie Zananiri
Located
3268
2007
Fight
Errol Elumir
Located
3271
2006
Anything Goes
Martin Hopewell

Located with music changed

3279
2007
Hide and Suck 2: Deja Vu
Colin Boyle and Jason Boyle
Located
3282
2007
Norseland Saga: Episode One
Brendan Henry and Cameron Chamberlain
Located
3283
2007
Norseland Saga: Episode Two
Brendan Henry and Cameron Chamberlain
Located
3285
2007
A Mother's Day Suprise
Spencer Olson
Missing
3288
2007
The History of Sanitation
Jeremy Wisoff
Located
3289
2007
Little Guys!
David Pagano
Located
3295
2007
iPhone Ad
Zach Macias
Located
3297
2007
24 in LEGO
Robert Frost
Located
3298
2007
Stop and Motion
Markus "TitanFilm" Lütkemeyer
Located
3299
2007
Stupid Medieval Movie 2
Jeroen Willemse
Located
3301
2007
Sweet Jerry Bruckheimer! It's Jack Sparrow!
Colin Boyle
Missing
3304
2007
StoneTime
Mario Baumgartner
Located
3309
2007
Bricks in Love II
Steffen Troeger and Sandra Abele
Located
3311
2007
The Franky Job
David Pickett
Located
3312
2007
Get Rhythm
Jason Boyle
Located
3315
2007
Pneuma
Chris Salt
Located
3320
2007
Earth Day
KrickFilms
Located
3321
2001
The LEGO Chainsaw Massacre
Andy Thornbery
Located
3322
2001
The Thing (Part 1)
Andy Thornbery
Located
3323
2001
The Thing (Part 2)
Andy Thornbery
Located
3326
2007
Lake Acid
Cole McLeod
Located
3329
2007
How to Build a Computer
Eric Schemm
Located
3330
2007
Ponygirl and Sheriffguy
Jeremy Wisoff
Located
3331
2007
Street Encounter
Matt Gillan
Located
3333
2007
Fight Club: AOE
Rich Petty
Located
3334
2007
Magic Edge IV
Philip Heinrich
Located
3343
2007
Frances

Nick Z. and Andrew Z. ("My Favorite Studios")

Located
3349
2007
The Future is Calling: iPhone Ad
Nathan Wells
Located
3354
2007
The Artist
Mirko Horstmann
Located
3359
2007
Star Wars: An Ill-Made Weapon
Philip Heinrich
Located
3366
2007
Safety First
"LegoDude 8000"
Located
3370
2007
War of the Worlds LEGO Edition 2
Griffin "tripod" Holmes
Located partially
3372
2007
Time
Mike Everett and Sean "Legohead" Keller
Located
3379
2007
The Day Brickfilms.com Crashed
Nathan Wells and We the Brickfilmers
Located
3391
2007
What if...?
"Holgor"
Located
3396
2007
Marriage Problems
Jeremy Wisoff
Located
3401
2007
The Time Machine: Part I
"Willy Joe"
Located
3409
2007
Writer's Block
Kevin Horowitz and Jacob Schwartz
Located
3441
2007
One Day in Citybrick
Plé "Rock 'n' Brick Films" Quentin
Located
3442
2007
Lonesome Heroes
Graeme Allen
Located
3453
2006
The Bell Game
Lewis Chen
Located
3454
2007
iPhone Ad
Nathan Mancini
Missing
3473
2007
Gatherfood the Iceman
HOViNET team
Located
3478
2007
Dark Bounty: Episode 1
Griffin "tripod" Holmes
Located
3482
2007
Star Wars: A Much Needed Break
Joe Strout
Located
3486
2007
CAKE
Julian "JCCLIPS" Chelo
Located
3490
2007
Individuality
Dr. Arend Hintze
Located
3495
2007
Star Wars: Emperor's Order
Mark Wanninger
Located
3503
2007
A Night at the Pier
Chris Boyer and Brian Bridges
Located
3508
2007
Never Split the Party
Larry "madwhistler" Morris
Located
3510
2007
Sophisticated Space Workers: Destiny
Markus "TitanFilm" Lütkemeyer
Located
3517
2007
Storyline Buildup
Bert Loos
Located
3521
2007
Memory Lane
Matt Gillan
Located
3542
2007
Cillit Bang
Rich Petty
Located
3547
2007
The Inventor
Jonathan Vaughan
Located
3549
2007
Boba Fett
"LegoDude 8000"
Located
3550
2007
Crown of Syracuse
Philip Heinrich
Located
3551
2007
Star Wars: Clone Trooper Down
Philip Heinrich
Located
3552
2007
It's Hard to be a Stormtrooper
Sjaak Alvarez
Located
3554
2007
Star Wars: The Exiguous Eschewal
Jonathan Vaughan
Located
3555
2007
Sonically Active
Logan Wright
Located
3556
2007
Birthday Cake II
Ryan Boyle, Jason Boyle and Colin Boyle
Located
3557
2007
A Desperate Housewive
Plé "Rock 'n' Brick Films" Quentin
Located
3558
2007
Night of the Tater
Nikolas Jaeger
Located
3559
2007
Rick & Tom Go to the FUTURE
KrickFilms
Located
3560
2007
Infinity Squared
Nathan Wells
Located
3562
2007
Star Wars: Echoes
Gregory Moore and Garry Moore
Located
3565
2007
Reputation
Colin Boyle
Located
3572
2007
Star Wars: A perilous mission
"zwan"
Located
3582
2007
Dark Bounty: Episode 2
Griffin "tripod" Holmes
Located
3592
2007
Curiosity Killed the Stormtrooper
Ryan "Shadow the Rebel" Lorg
Located
3599
2007
Hypothetical Possibilities
Zach Macias
Located
3600
2007
Vader's Buttons
Jordan Harris
Located
3601
2007
Greatness
Matt Gillan
Located
3605
2007
The Thumbless Hand
Michael "WITO Productions" Masterson
Located
3609
2007
Mon Manager
Vincent Nast
Located
3610
2007
Election Week in Legoville
Justin Letchford
Located
3611
2007
Skate
Anders Engström and Jacob Gustin
("Team Ayayo")
Located
3613
2007
The Creator's Lost Tool
Jason Boyle
Located
3619
2007
Bowling for Sandercoe
Chris Salt
Located
3620
2007
People Come In. Pizzas Come Out
Kevin Horowitz and Jacob Schwartz
Located
3622
2007
Gone With the Trash
Jan Gortnar
Located
3625
2007
Milk
Griffin "tripod" Holmes
Missing
3626
2007
The LEGO Fight 3
Luke Rockswold
Located
3634
2007
Driven
Nathan Wells
Located
3636
2007
The Truth
Matt Gillan
Located
3646
2007
Jostle
Graeme Allen
Located
3647
2007
The Knight In The Dark
Curtis "Yo-Blob" Mutter
Located
3650
2007
The Pepperonis
Philip Heinrich
Located
3652
2007
Inhibitions
Colin Boyle, Ryan Boyle and Jason Boyle
Located
3653
2007
Abduction
Jonathan Vaughan
Located
3663
2007
Garage Days
Richard Van De Steenoven
Located
3669
2007
Divine Intervention
Dr. Arend Hintze
Located
3671
2007
Cameos
Matt Gillan
Located
3672
2007
Lonesome Heroes
Jason Boyle
Located
3673
2007
Hot Dogs
Jeremy Wisoff
Located
3676
2007
Arthur's Legacy
Zach Macias
Located
3680
2007
The Street Race
Jan Gortnar
Located
3684
2007
The Curse of Zork (Part 1, Part 2)
Andrew "Rock Down Productions" Roche
Located
3690
2007
Barmecide
Colin Boyle
Located
3694
2007
AGM 2007
Simon Lunn
Located
3702
2007
Deathbed Revelations
KrickFilms
Located
3707
2007
All Hallows Wolf
Richard Van De Steenoven
Located
3712
2007
October 31st
"Badgerboy"
Located
3713
2007
Paroxysm
Graeme Allen
Located
3715
2007
The Tragically Truth
Gabriel Bremler
Missing
3718
2007
Trick or Treat
Jordan Harris
Located
3720
2007
Harry Potter and the Muggle Commando
Jason Boyle
Located
3721
2007
Monster Mash
Jason Boyle
Located
3723
2007
Dark Bounty: Episode 3
Griffin "tripod" Holmes
Located
3734
2007
Placate
Steve Collins
Located
3735
2007
Pugnacious
Richard Van De Steenoven
Located
3737
2007
Ben
Kim Gohlich
Located
3738
2007
Interwebtastic
Ryan Boyle
Located
3741
2007
Tales of Christmas Past
Ryan Boyle
Located
3755
2007
The Crucible - trailer
Nikolas Jaeger
Located
3763
2007
Star Wars: Bane of the Sith
Philip Heinrich
Located
3769
2007
Power Tool Safety
"LegoDude 8000"
Located
3770
2007
Tips For a Ski Vacation
David Reino
Located
3777
2007
HALO: Master Chief
Philip Heinrich
Located
3781
2007
Magic Cola Xmas Trucks
Mario Baumgartner
Located
3785
2007
Star Wars: Dark Apprentice Trailer
Jonathan Vaughan
Located
3787
2007
Santa Claus and The Lamb
Thijs van Brunschot
Located
3788
2007
Flashbacks: Redux
Nathan Wells
Located
3789
2007
Hastings
Nikolas Jaeger
Located
3790
2007
The Pilgrim's In-Laws
Jason Boyle
Located
3791
2007
Spirit Stompers: The Christmas Town Assignment
Jason Boyle
Located
3792
2008
It's Hard to be a Stormtrooper II
Sjaak Alvarez
Located
3794
2007
On Hold
"Big Light"
Located
3797
2008
Model Town House Animation
Anthony D'Angelo
Located
3799
2007
Diatribe/Malapropos
Zach Macias and Nathan Wells
Located
3800
2007
The Panacoto's Decoy Call
Jesús "Arqu medes" Delgado
Located
3801
2006
Star Trek: Dawn
Mario Baumgartner
Located
3803
2007
1337Man!
Chris "CJ Studios" J.
Located
3806
2008
A Merry Viking Christmas
Jim "LAnimator" Gilbert
Located
3807
2007
Divine Interventions II
Dr. Arend Hintze
Located
3810
2007
Jake And The Lazy Guy in: Giving Love
Stijn Heirstrate
Located
3819
2007
The Season of Giving
Nick "NickMOC" Samuelson
Located
3821
2008
The Richest Man in Babylon
Jonathan Williams
Located
3823
2007
Dr. Case & Nina in: Nano Quest. FLL animation 06-07
Brian Jennings
Located
3824
2007
Dr. Case & Nina in: Power Puzzle. FLL animation 07-08
Brian Jennings
Located
3827
2007
Flight 901
Ben Boatwright
Located
3833
2007
James Lord Pierpont Must Die!
Ryan Boyle
Located
3835
2008
The Story of Creation
Anthony D'Angelo
Located
3837
2008
Glower
Nick "NickMOC" Samuelson
Located
3845
2008
The Oven
Philip Heinrich
Located
3846
2008
E.A.R.T.H. 2.0
Steffen Troeger
Located
3849
2008
Epitaph To a Baby
Harry Bossert
Located
3854
2008
The Emerald
Alex McDuffy
Located
3856
2008
Harry Potter and the Half Blood Prince
Mario Baumgartner
Located
3859
2008
Pococurante
Tyler "Relyt Films" Julka
Located
3861
2008
The Quest for the Camera
Menachem "Maron Productions" Aron
Located
3863
2008
Contemplate
Gregory Moore and Garry Moore
Located
3864
2008
Fairy Tale
Mark Shew
Located
3866
2008
The Quest for the Torc Alliah
Daragh Twomey
Located
3867
2008
mass media in a changing world
Jeremy Markowitz
Located
3869
2008
Portal
Nick Larsen
Located
3875
2007
Droidmaker
"Wintermoog"
Located
3876
2007
Flight 901.5: The Night Before
Ben Boatwright
Located
3877
2007
Unsound
Nathan Wells
Located
3880
2007
Abduction 2
Jonathan Vaughan
Located
3884
2007
One Man's Trash, Another Man's Treasure
Jeremy Wisoff
Located
3888
2007
The Gift of Giving

Jamie "Shrankenhiemer Studios" Blackband

Located
3893
2008
The Quest for the Blood Diamond
Stijn Heirstrate
Located
3898
2008
Dark Bounty: Episode 4
Griffin "tripod" Holmes
Located
3899
1992
The Funhouse
Seth Kaufman
Located
3902
2008
Have You Heard?
Harry Bossert
Located
3907
2008
Frenetic
Daragh Twomey
Located
3914
2008
The New Neighbour
Maxime Marion
Located
3916
2008
Star Wars: Flaws of the Sith
Tyler "Relyt Films" Julka
Located
3919
2008
Red & Handsome
Jesús "Arqu medes" Delgado
Located
3921
2008
Indiana Scones and the Quest for the Platinum Waffle
Eden Sanders
Located
3923
2007
The Season of Giving
Zach Macias
Located
3930
2008
Blood on the Tracks
Nick "NickMOC" Samuelson
Located
3931
2008
Life's Interventions
Richard Van De Steenoven
Located
3936
2008
Batman Rebuilt
Caleb Christofer
Located
3942
2008
Buy the By
Joseph Hayden
Located
3943
2008
Move It Move It
Paul "daboog" Mendoza
Located
3946
1991
LEGO Advert
"CME"
Located
3962
2008
Indiana Jones and the Misread Map
Gregory Moore and Garry Moore
Located
3966
2008
Freedom Force: Part One
Ola Tandstad and Adrian Berg
Located
3970
2008
Spencer and Dallman
Spencer Olson
Missing
3971
2008
Alpine Espionage
David Reino
Located
3972
2008
Lake Acid Extinction
Cole McLeod
Located
3973
2008
Steve VS The Giant Alien Potato
Zachary Johnson and Lon Waitman
Located
3981
2008
Aerobic Respiration in LEGO!
"Thug Pfhilms"
Located
3984
2008
LEGO Vs Mega Blok Ads
(Coffee, Sweet Moves, Customization, Stinky, Original)
Mitch "spudster45" Bales
Located
3991
2008
The BirdHunter
"SilverFox"
Missing
3992
2008
Ninja
George Heidbreder
Missing
3994
2008
Tilo Loves Janine
"Grosch"
Located
3997
2008
Vampire LEGO Movie
Emiliano Acevedo
Located
3999
2008
Superhero High: ep01 The American Candidate
Russell "Billiard Blockheads" Perry
Located
4012
2006
Generic Teen Slasher 142
Russell "Billiard Blockheads" Perry
Located
4013
2008
Glimpse of a Downfall
Matt Gillan
Located
4018
2008
The Yellow Submarine LEGO
Timothy "Timyorgut" Le Masson
Located
4022
2008
Abrade
Graeme Allen
Located
4023
2008
Dino Crises 2
Rich Petty
Located
4024
2008
Fetor
Harry Bossert
Located
4030
2008
Deep in the Heart of Texas
Mitch "spudster45" Bales
Located
4035
2008
Anomalous
Coley "Crbdudeman Studios" Burleson
Located
References
Edit