LEGOs Are Not Enough

Bond receives a wallet from Q

Watch now

➤

Directed by
Released
Starring

Nick Moretti
Steven Haas
Amy Tenebaum
Gay Haynie
Jamie Luria

Genre
Running time

17:19 (Original)
14:32 (Directors' cut)

Language
LEGOs Are Not Enough is a 2001 comedy spy brickfilm by 4 Guys, 1 Brain, directed by Tom Kuljurgis and Joel Haas. It is a spoof of the James Bond series (with its title being derived from the 1999 Bond film The World is Not Enough) and follows Bond as he is sent on a mission to stop a madman producing nuclear weapons at the University of Michigan. A directors' cut of the film was released in 2002,[1] as well as a sequel, You Only LEGO Twice.
A group of pirates have stolen all of Europe's soap and are planning to hold it for ransom, when James Bond climbs aboard their ship and shoots all of the crew before defeating the captain in a swordfight.
Back at headquarters, Bond is chastised by M for turning a minor situation into a near-crisis. She decides to put him on a special, less expensive mission in Michigan, explaining that a madman known only as X is loose at the University of Michigan in Ann Arbor and may be syphoning fuel from a reactor to create nuclear weapons. She instructs Bond to rendezvous with an operative posing as a religion professor who will help him to blend into college life, and he then heads to Q's lab to receive a wallet with a credit card that can be converted into a bomb.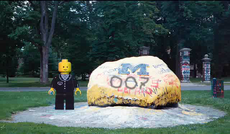 Bond meets the professor on the plane and is instructed to visit landmarks in Ann Arbor to familiarise himself with the area, and to try to find the location of the reactor during his travels. After some sightseeing, Bond stops to grab a burger, when a woman puts a gun to his head. She is working for X and is about to shoot Bond when he manages to change her mind with a kiss. She apologises and suddenly asks for Bond to make love to her, and after she introduces herself as Leg O'Galore, they go to the university's library for some privacy. Afterwards, Leg O'Galore agrees to help Bond defeat X and tells him she knows how to get to the nuclear reactor.
The pair head under the university's College of Engineering where they find X. He tells them his master plan is already complete and asks that they do not call his X but rather Coach, as he is the football coach of the Ohio State Buckeyes. He is preparing to obliterate Michigan with a nuclear missile to get on the good side of the OSU fans, who hate him for not being able to beat the University of Michigan football team. He enters a gunfight with Bond and Leg O'Galore before getting into a bionic cyborg suit and shooting Leg O'Galore. Bond gets into another cyborg suit and, when he eventually gets it to work, manages to defeat Coach in a battle. The missile is already preparing to launch from inside a bell tower on campus, which opens up. Bond takes the suit outside and throws the missile into space, where it explodes.
M and Q patch through to Bond's wristwatch communicator in an attempt to congratulate him, but find that he is otherwise engaged at a frat party.
Nick Moretti as James Bond 007
Steven Haas as X/OSU football coach
Amy Tenebaum as Leg O'Galore
Gay Haynie as M
Jamie Luria as Q
George Kuljurgis as Professor (original version only)
Morton Raban as Pirate captain
Rachel Luria as Cyborg computer voice
Christian Saratoga as First mate
Paul Springwater as Pierre
David Kingsfield as Jacques
Benjamin Terrybrook as Burger employee
Watson McTurtleton as Astronaut (directors' cut only)
Tom Kuljurgis - Writer, Director, Producer, Animator, Art director[2]
Joel Haas - Writer, Director, Producer, Animator
Robert Peters - Producer, Animator, Visual effects supervisor
Michael Zapf - Producer, Sound effects editor
Phil Kuljurgis - Constructive criticism
Bill Peters - Unconstructive criticism
Production
Edit
LEGOs Are Not Enough started production in 2000, initially by Haas, Kuljurgis and Peters, with Zapf joining the group later.[3] It contains many references to the University of Michigan in Ann Arbor, where the four creators were studying.[4]
The film was completed on January 21, 2001 and was screened at two festivals in Ann Arbor as well as on local television station WOLV-TV before receiving a wide internet release on April 7, 2001.[5] A directors' cut was released on iFilm.com in 2002,[6] which removed the scene with the professor on the plane, added a line spoken by an astronaut following the missile exploding, and shortened certain scenes and the credits.[1]
Year
Competition
Category
Result
2001
Festival of Student Works
Best Art Design
Won
Film Farm V
Best of Show
Won
Most Original
Won
References
Edit
Community content is available under
CC-BY-SA
unless otherwise noted.