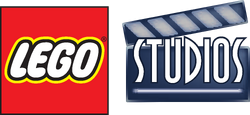 LEGO Studios was a LEGO theme that focused on stop-motion animation and filmmaking. Sets in the line were released from 2000 to 2002. The flagship set, 1349 LEGO Studios Steven Spielberg MovieMaker Set, included a special LEGO webcam and proprietary software that included stop-motion capture, timeline editing, and sound recording and editing. LEGO Studios was instrumental in popularizing the hobby of brickfilming.
History
Development
In the late 1990s, The LEGO Group were entering into a financial slump.[1] Sales of traditional toys were down, and LEGO were feeling threatened by more technologically advanced toys and the increasing presence of computers in homes. They began an effort to diversify their product range, and one area they focused on was combination of LEGO with technology and computer interaction.[2][3]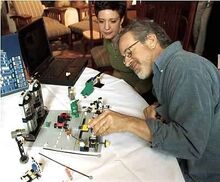 A 1997 visit to Disney Studios in America by LEGO designer Rick Siegrist later inspired Siegrist to create the first concepts for a movie-related LEGO line, which he presented to the company.[4] Later, when development of a movie making LEGO product began, LEGO wished to partner with an established filmmaker, and presented the concept to Steven Spielberg. Spielberg had previously had the idea to make a toy product that would make filmmaking accessible to kids but had never gotten to the point of partnering with a company to develop it, so he was happy to partner with LEGO.[5] Reportedly, Spielberg provided a lot more input than simply lending his name.
The main LEGO Studios set was officially announced on May 9, 2000.[6][7][8] LEGO revealed their partnership with Spielberg, and noted that all of his proceeds from the sale of the set would be donated to the non-profit organizations Starbright Foundation and Shoah Foundation. It was announced that the set would include a webcam, kid-friendly editing software, an assortment of LEGO props and unique elements, and a booklet on tips and tricks for making films. The editing software was created via a partnership with Pinnacle Systems. The camera had innards created by Logitech,[9] and was housed in a shell that could be attached to LEGO elements. LEGO Studios was first demonstrated to the public at E3 2000, from May 11-13. On the LEGO website, Studios preview pages were made available, featuring images, media information, and a small number of promotional video clips available to view.[10] LEGO Studios was also demonstrated at The LEGO Maniac Kidvention at LEGOLAND California from July 8-16.[11]
Release
The LEGO Studios Steven Spielberg MovieMaker Set was officially released in America on November 1, 2000, and it retailed for $179.99. The rest of the main sets in the first wave of the Studios line were officially released on January 1, 2001,[12] and each centered around a movable action feature that could theoretically be incorporated into a film. The sets also doubled as studio-themed play sets, as they including models of behind-the-scenes equipment as well as film crew minifigures (including a director figure resembling Spielberg). For a full list of LEGO Studios sets, see the Brickipedia page for Studios. It is believed that the LEGO components of the main set were planned to have originally instead been released as a separate set, as pre-release evidence[13][14] mentions a planned first wave set called Earthquake Studio with the set number 1350 and a price point of $79.99, and no LEGO set was ever released with the number 1350. The worldwide release of the LEGO Studios MovieMaker Set was in April-May 2001.
The main set included a disc used to install the animation and editing software. Also included on the disc was a collection of sound effects and music tracks, a number of animated films and clips (created with a professional camera; not the LEGO Studios camera), and a series of tutorial videos explaining how to create shots and effects similar to those in the included films. The films on the disc were produced by Bastrup Trickfilm in Denmark.[15][16]
A brickfilm contest, the LEGO Studios Movie Making Contest, was launched in North America upon the release of the main set, and a number of further contests to promote LEGO Studios took place in various countries in 2001.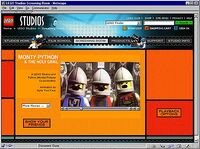 On November 1, 2000, LEGO also launched the LEGO Studios website, which included promotional information, a film school section with tips and tricks, and a screening room section featuring brickfilms to stream or download.[17] Premiered on the website was the exclusive brickfilm Dino Cop. Also available were the films Jurassic Bark, Jewel Quest, and some of the tutorial videos that were also on the software disc. Users could submit films they had made with LEGO Studios for a chance to have their films become available to view on the website. Over time, more professionally created brickfilms were also added to the website. For more information, see the list of brickfilms on the LEGO Studios website. There was also a LEGO Studios browser game called Backlot. The website was online until early 2003.
LEGO Studios received awards including two BAFTAs in 2000 in the categories Interactive - Children's and Interactive - Learning,[18][19] and a Speelgoed van het Jaar (Toy of the Year) award in The Netherlands in 2001.[20]
In early 2001, there was a product released called Studio Action, which included a copy of the LEGO Studios software but did not include the LEGO Studios camera or the rest of the LEGO set. It instead included a USB video cable to allow people to use the software in conjunction with camcorders they already owned.[21]
Technical aspects
The LEGO Studios software was designed to work with Windows 98. When capturing live action video, the frame rate was 30fps. When creating stop-motion animation, the frame rate was 15fps on twos, as pressing the capture button always added 2 frames at a time, meaning animation created with LEGO Studios was locked at 7.5fps.[22] The camera included a built-in microphone for recording your own dialogue and sounds.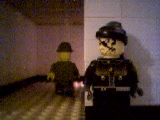 The LEGO Studios camera was heavily criticized for the poor picture quality it produced.[23] Although the camera actually had a maximum resolution of 640x480 internally,[24] it captured in 320x240, and rendering with the Studios software outputted the films in just 160x120. In addition, images taken with the camera were grainy and discolored. Some people complained of false advertising, given that LEGO Studios was promoted using films shot with a professional camera.[20] Another criticism was that the editing software became increasingly unstable as the length of a project increased, leading to crashes (though this was a much less common complaint than those regarding the camera). The camera was not solely responsible for the low quality results, as rendering a film with the LEGO Studios software forced it to go through additional heavy compression. Brickfilms created with the LEGO Studios camera in conjunction with different software are usually in better quality and higher resolution.
Subsequent waves of sets
Many LEGO Studios polybag sets were released in 2001, two of which were in partnership with Nestlé and featured an exclusive minifigure of Quiky the Bunny. The LEGO Group released some licensed sets based on theatrical films as sub-themes of LEGO Studios. Two sets based on Jurassic Park III were officially released in July 2001.[25]
The first wave of sets based on Spider-Man was released in the first quarter of 2002.[26] Later releases of these Spider-Man sets dropped the Studios branding, and later waves of Spider-Man sets were not released under the Studios umbrella.
A line of four horror-themed Studios sets was released in May or June 2002. Each set centered around a different classic horror monster. The largest set in this line, Scary Laboratory, included a CD with additional sound effects to use with LEGO Studios. Also included on this disc was the brickfilm Scary Thriller, as well as two versions of a brief Spider-Man animation, all of which were created by Spite Your Face Productions.
Impact on brickfilming
LEGO Studios was hugely influential in the development of brickfilming, being the first time the concept was shared with a wide audience. It was released right as computers were becoming commonplace in homes, and right as sharing video online was becoming slightly more feasible. This fast-tracked the development of an online brickfilming community, with Jason Rowoldt launching the first popular brickfilming website, Brickfilms.com, shortly after the release of LEGO Studios. In addition, the website of LEGO Studios itself would have been many peoples' first exposure to brickfilms, as it featured animations available to stream or download.[27] Many notable brickfilmers created their earliest films using LEGO Studios, such as Philip Heinrich, Nathan Wells, Joshua Leasure, Sean Willets, Alex Kobbs, and Chris Salaises. LEGO Studios also influenced many people who didn't actually buy the set itself to take up brickfilming with what they did have, due to the marketing making them aware that it could be done. One notable example of such is Kevin Ulrich.
Related contests
Backyard National Children's Film Festival 2000
The LEGO Group partnered with the Backyard National Children's Film Festival in Los Angeles to promote LEGO Studios. At the 2000 Backyard festival which took place from November 3-4, there was no brickfilm competition, but LEGO did sponsor a category called the LEGO Imagination Award, for "the film that best expressed an imaginative story brought to life through film". The winner was a live action film, Beneath the Satin by Staisha Grosch.[28]
North American LEGO Studios Movie Making Contest
Main article: LEGO Studios Movie Making Contest
The largest contest tied in with LEGO Studios was the LEGO Studios Movie Making Contest, which launched in North America alongside the release of the main set.[29] This contest was advertised in stores, in the LEGO magazine, and on boxes of the main LEGO Studios set. Over 700 entries were received, from which 9 semi-finalists were selected; three each between three age brackets. These 9 films were screened at an event called the LEGO Studios Movie Making Award Ceremony, which took place in New York in June 2001. The winner in each age bracket was announced at this event, and the winning films were Where Does All the LEGO Go? (8-10), Al, Alien Hunter! (11-13), and Adventures in LEGO Land (14-18).
It was originally intended that there would be an international Studios contest held online, and that the North American contest winners plus additional worldwide winners would go on to compete at the Backyard National Children's Film Festival 2001 for the "LEGO Studios Global Movie Making Award". Although this event did take place, it is evident that plans to fully realize the international contest as originally intended mostly fell apart.
Script writing contest
A script writing contest to promote LEGO Studios was held via an official LEGO magazine. The first place winner was Jon White, and the prize was the LEGO Studios MovieMaker Set.[20]
fast forward KINDER FILMen FESTIVAL 2001
LEGO sponsored a category at an edition of a German youth film festival called the fast forward KINDER FILMen FESTIVAL, which took place from May 3-6, 2001. The category was called "LEGO Studios-Sonderpreises für den besten LEGO-Trickfilm", which translates to "LEGO Studios Special Prize for the Best LEGO Animated Film". Two winning films, Die Zeit X and Der Weg ins LEGOLAND X , were selected, and these ended up being the only additional films that went on to compete against the winners of the North American LEGO Studios Movie Making Contest for the "global" moviemaking award at the 2001 Backyard festival.
UK LEGO Studios MovieMaker Competition
A UK equivalent to the LEGO Studios Movie Making Contest was launched alongside the UK release of the main Studios set in 2001. Though the winning films are known (TBC News and Heavenly Balls), very little additional information about this contest has been located. The winning films from this contest did not compete for the "global" moviemaking award at the 2001 Backyard festival.
National Movie-Competition at Singapore Polytechnic
Main article: National Movie-Competition at Singapore Polytechnic
A contest for brickfilms that focused on environmental awareness was held by LEGO Singapore Pte. Ltd. in association with the Singapore Environment Council. LEGO Studios was provided to schools, for students to make entries with. The winning films from this contest, Shark Fin Soup Bites X , The Final Tapir, and Recycling X , did not compete for the "global" moviemaking award at the 2001 Backyard festival.
Backyard National Children's Film Festival 2001
At the 2001 Backyard National Children's Film Festival, the three winners of the North American LEGO Studios Movie Making Contest and the two winners of the LEGO Studios category in the German fast forward KINDER FILMen FESTIVAL 2001 were screened. This was originally intended to be a much larger event with films from many countries around the world competing. The LEGO Studios Global Movie Making Awards were presented at this event, though the age categories 8-10 and 14-18 were won by default by the American winners, as no additional entries in these age brackets were added. The age bracket 11-13 was won by Der Weg ins LEGOLAND X .
References