LEGO Sport Champions
The title card of the series
Watch now

➤

Created by

Lajos Szabó and Vianco Studio

Genre
Language
No. of installments

7

First release
Created for
LEGO Sport Champions is the most widely recognized name of a 1980's series of brickfilms that was commissioned by The LEGO Group and animated by Vianco Studio in Budapest, Hungary. The series contains 7 short films that each focus on a different sport and humorous events surrounding it. The films are all of a similar length, averaging around five minutes each.[1]
Release history
Edit
The copyright in the credits of the series is listed as 1986 and it is possible that it was released in this year,[2] but it is usually cited as being first released on VHS in 1987. It was licensed to various companies for distribution in multiple countries. It saw later releases in 1989,[3] 1994,[4] 1996, 1998[5] and possibly in other years, usually under different titles including LEGO Stories,[6] LEGO Sportschau, Sportsnytt: De Olympiske LEGO Leker,[7] Sport News: The Olympic LEGO Games, and LEGO Action Fun.[8] It is unclear what the name of the very first release was, and it is likely that it wasn't LEGO Sport Champions. The 1994 Norwegian release lists the original title as LEGO Sports Films. The earliest confirmed use of the LEGO Sport Champions name is on a 1994 VHS release from Canada.
The films have also appeared on television,[9][10] and were available on Comcast on Demand. The only known DVD release is as part of a 2005 compilation of films distributed by Filmwest titled Award Winning Animated Classics.[11]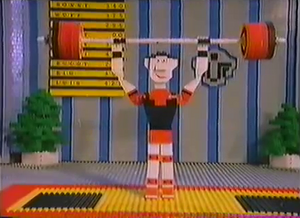 Pitstop Picnic
A family in a caravan get caught up in a Formula 1 race.
Rare-Ski Bear-Ski
A skiing competition is discovered by a large bear.
Gym-Dandies
A gymnastics event sees the participation of a robot.
Ice Pup
During a hockey match, a dog escapes onto the rink.
Waltz of the Walrus
A duo of figure skaters perform, and animals emerge from under the ice.
Heavyweight Ape
A gorilla escapes his cage to witnesses a weightlifting competition and begins to imitate the weightlifters.
Soccer to 'Em
In a stadium, two teams face off in a game of soccer.
Lajos Szabó - Director, Story, Animator, Camera
Miklós Salusinszky - Producer, Story
Áron Sipós - Art director, Story
Katalin Hegedűs - Production manager
István Varga - Story, Set and character design, Animator
Zoltán Feyér - Story
Iván Kalló - Animator
Kati Ábrahám - Animator
Kati Ilosvay - Editor
Mátyás Szakály - Sound and music
Lázlo Szakály - Sound and music
Tibor Kocsák - Sound and music
Gábor Kemény - Sound and music[12]
| Year | Competition | Category | Result |
| --- | --- | --- | --- |
| Unknown | Gold Apple Awards | Visual Storytelling Grades K - 5 | Won[13] |
References
Edit
Community content is available under
CC-BY-SA
unless otherwise noted.