The LEGO Maniac's Coolest Home Video Contest was a video contest hosted officially by The LEGO Group via the LEGO Mania Magazine in 2000. The aim of the contest was for entrants to submit a "cool LEGO video", displaying an original creation. Though not specifically a brickfilm contest, all of the grand prize winners were brickfilms, as were many of the other finalists.
The LEGO Maniac's Coolest Home Video Contest was announced in the March - April 2000 issue of the LEGO Mania Magazine. The stated aim of the contest was for entrants to "create a video, no longer than 2 minutes in length, showing and describing your "Coolest LEGO experience."" Videos were required to feature an original LEGO creation. The contest was open to U.S. residents aged 5 and over. Entries were required to be submitted by mail on VHS, along with the entry form distributed in the magazine, and they had to be received by May 22 in order to be eligible.
Judging and prizes
Edit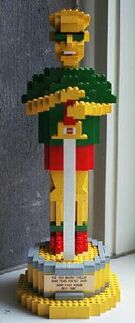 Prelimary judging was handled by D.L. Blair, Inc., an independent judging organization. 50 videos were selected as finalists, which were then judged by LEGO Systems to determine the three grand prize winners. Entries were judged based on originality and creativity of the video, weighted at 35%, entertainment, weighted at 35%, and the use of LEGO components as demonstrated in the video, weighted at 20%.[1] People who created the videos chosen as finalists were sent a VHS tape containing the three winning entries in full, and clips from all of the remaining finalist films.
The prize for the three grand prize winners was a 5-day trip for four to LEGOLAND California in July 2000, to attend an event called The LEGO Maniac Kidvention. This also included accomodation, transportation, and $500 spending money. The prize was valued at $6000 total. The winners were presented with brick-built trophies at the event.
Winning videos and other finalists from the contest were played at locations around LEGOLAND during the Kidvention. There was also a hands-on sneak preview of the LEGO Studios Steven Spielberg Movie Maker Set.[2]
The three grand prize winners of the contest were the first two minutes of the film The Mysterious Secret Treasure of the Lost Pyramid by Greg Perry, LEGO World 2007 by Keith McDaniel, and The Dream by Joel Gautraud.[3]
Other known finalist films are A Day at the Races X by David Pagano, My Coolest LEGO Mindstorms Robot Program by Steve Putz,[4] and Ghost Train and The Construction Project, both by Greg Perry.
Finalists
John Baner
Catherine Greis
Ross Olsen
Peter Larioni
Dave Proeber
Peter Tomczyk
Joel Belt
Louis & Kristina Yorey
Stan Wesson
Jordon Lehman
Josh Nagy
Justin Strack
Christopher Rice
Steve Putz
Kyle Hess
Matthew Onxley
Tyler Zanini
Greg Perry
Micheal Olson
Shane O'Day
M. Olsen
Justin Knill
Joshua Gillies
Josiah Shaw
Dan "half star films" Miga
Greg Perry
Chase McDugle
David Brewer
Keir Knight Fortier
Sid Sexton
Paul Harth
Kevin Azpeita
Colin Arisman
Aaron Shaak
David Pagano
Drew Stasak
Joshua Sathe
Rex David Baker, Jr.
Joshua Connell
Steve Robenault
Tony Krasensky
Joseph Warchol
Conrad Thomas
Brian Popovich
Joey Brown
Dallas Baller
Derek Hinsey
References
Edit
Community content is available under
CC-BY-SA
unless otherwise noted.