The Sandman Will Keep You Awake - The Loop
Play Sound
Intoxication Hallumentaire (Space Sauerkraut) is a brickfilm collaboration filmed in one day at the French LEGO exhibition Fana'briques by Bruno Lefèvre, "France & Alex", Maxime Marion, "Legoander" of Silent Frames, "Max_LG", Maxime Baconnais, Quentin "Stop-Motion Studio HD" Zanin and "Skrins".[1] It was created for the Brickfilm Rapidly All Week Long Contest 2017, and won 3rd place.[2][3] It was the first BRAWL entry by any of the animators involved.
Plot
Augustin is cooking dinner when Bernard enters the house. Bernard wants to order pizzas as he thinks there isn't enough food around, but Augustin explains that he found some undetermined food at the back of the cupboards that smells good. He puts it on a plate and tries to convince Bernard to eat it. When he himself takes a bite, he begins to hallucinate, rapidly seeing many parallel worlds separated by abysses with giant monsters walking around in them. He makes Bernard try the food, and Bernard hears a godlike voice announcing that the end is near. The duo suddenly both hear the voice announce that the exhibition will close in 5 minutes, and they are scooped up by a hand and placed in a box of minifigures.
Cast
Crew
Production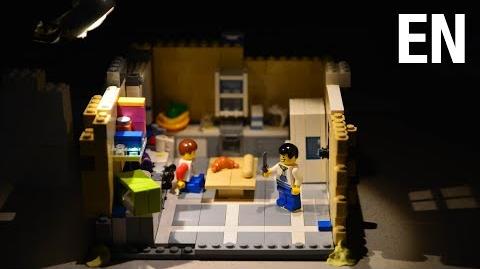 Members of Brick à Brack were running an initiation to stop-motion panel at the LEGO exhibition Fana'briques in Rosheim, France, which was taking place from June 30 to July 2. The deadline of the 2017 Brickfilm Rapidly All Week Long Contest on Bricks in Motion was the beginning of July 2, so the brickfilmers had the idea to attempt to create a collaborative brickfilm at the exhibition for the contest. Planning and preparation began on the evening of June 30, and all shooting and editing took place on July 1. The film was exported while walking to their hotel that night, with a laptop in hand. It was screened at Fana'briques the next day.
Augustin is seen within multiple exhibits at Fana'briques including among sheep designed by Kloou, which were also used as characters in the brickfilm Sheep by Maxime Marion, a film that was screened at the festival.
References