iWater

The CEO of Appeel introduces the iCar, which runs on iWater

Watch now

➤

Directed by
Released
Starring
Genre

Satire

Running time

9:53

Language
iWater is a 2015 satire brickfilm by Cornelius Koch and Steffen Troeger. It is a satire of Apple products and fanboyism, and is constructed from many different fictional TV shows and news reports, as if the audience was flipping through channels on a television.[1]
A press conference for tech company Appeel begins. The Appeel CEO appears as a hologram and greets the astonished audience. After a bit of hyping up, the CEO introduces the latest Appeel product: the iCar, a three-wheeled car powered by iWater. The crowd cheers as the hologram CEO disappears.
A TV news reporter interviews several people who are a part of a crowd waiting outside an Appeel store. Lots of people who couldn't afford an iCar still purchase iWater, and drink it instead. Many people are getting addicted, and a huge line has appeared outside of the Appeel store, full of people eager to get more iWater.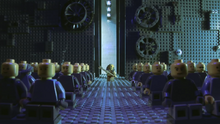 Some people are using the iWater for baptism, others for showering. However, according to an analysis by a scientist, iWater is just plain water.
iWater concludes with a shot-for-shot remake of Apple Computer's 1984 ad, with the Appeel CEO taking the place of Big Brother.[1]
Guy Commanderson
Zach Macias as Appeel CEO
Louise Mayer as Girl in Orange
Jay Silver as Anchorman
Kim Smith as Nicole Shinek-Wurster
Nathan Wells as Peter Quantum-Pecker
Danielle DeMartini (uncredited) as Girl in Pink
Nathan Mellace is also credited but actually does not appear in the film.
Cornelius Koch - Story, Set design, Animating, Editing, Sound design, Music
Steffen Troeger - Story, Set design, Animating, Editing, Sound design, Music
nichtgedreht - Special thanks
The Four Monkeys - Special thanks
Robin Roschlau - Special thanks
References
Edit
Community content is available under
CC-BY-SA
unless otherwise noted.