Horror Animation Contest
The contest's logo, designed by Jay Silver
Host(s)
Location

ShootinBricks.com

Start Date
July 19, 2002
End Date
November 1, 2002
Entries

15

Winner(s)
The Horror Animation Contest was a brickfilming contest hosted by Doug James and Jared Gilbert in 2002 on ShootinBricks.com. The aim of the contest was to create a horror brickfilm of any kind, between 1 and 10 minutes in length.
The idea to host a contest together came to Doug James and Jared Gilbert while collaborating on their Historical Fiction Contest entry, Midnight Ride. They decided on a horror theme in honor of the new LEGO Studios horror sets, which also served as all but one of the contest's prizes. The Horror Animation Contest was announced on Doug James' website ShootinBricks.com on the 19th of July, 2002. They had originally planned to announce the contest at BrickFest 2002 over the weekend of July 19th-21st, but decided to announce it early online over fears of being "beaten to the punch" by other rumoured contest announcements. [1]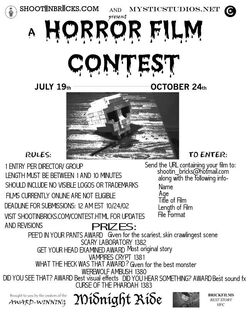 The Horror Animation Contest was announced with a deadline of October 24th, 2002, which was later extended by one week to October 31st.[3] As a courtesy, it was later decided that entries may be accepted until the end of November 1st to allow filmers a break for any Halloween plans.[4] The contest received a total of fifteen entries.[5][6]
Rather than ranking all entries in a linear fashion, winners would be chosen from a variety of different categories. The contest was announced with five categories and was soon expanded to include seven, allowing for a potential total of seven different contest winners (though it later turned out that all categories would be won between three films).[7][8]
The category of Scariest Scene was judged by Doug James and Jared Gilbert with the winner receiving the contest's largest prize, the LEGO set 1382 Scary Laboratory. Horror author Stefan Borque was approached to judge Most Original Story, which would win the award 1381 Vampire Crypt. Best Monster and Best Sound Effects were judged by Stefan van Zwam and the winners received the prizes 1380 Werewolf Ambush and 1383 Curse of the Pharaoh, respectively. Best Visual Effects and Best Set Design were judged by Jay Silver, with the Best Visual Effects winner receiving 1383 Curse of the Pharaoh and the Best Set Design winner receiving the only prize that did not come from the LEGO Studios horror line, 2539 Batwing Flyer. There was also an Entrants Choice winner selected by entrants voting for their favourite film, which received the prize 1380 Werewolf Ambush.[9]
Doug James and Jared Gilbert planned to produce a multi-part awards show brickfilm featuring reviews of the entries, but this idea was scrapped after only one part was released as it was taking too much time.[10]
List of all entries:
Listed here are the winning films in each category along with the other nominees.[11]
Community content is available under
CC-BY-SA
unless otherwise noted.