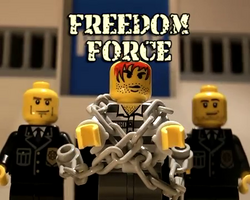 Freedom Force is a duo of action comedy brickfilm by Ola Tandstad and Adrian Berg.[1] They are parodies of American action films, and are about an effort to completely eradicate terrorism from the world. There were intended to be more films in the series, but this did not come to be.[2]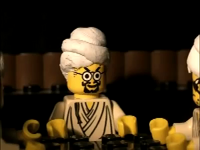 Released on April 10, 2008. When global terrorism is assumed to have been wiped out, all of the agents gather together in one place for a party.
Cast

Ola Tandstad as Agents, Terrorists
Adrian Berg as The general, The toastmaster, Agents
Maria Vevang as General's assistant[3]
Released on June 12, 2008. Following the swift and brutal return of terrorism, the general heads to a prison to break out a highly skilled ex-soldier, Max Fightmaster.
Cast

Ola Tandstad as Max Fightmaster, Burly 'nam soldier, Escort guard 2
Adrian Berg as The general, Escort guard 1, Bored 'nam soldier
Crew

Ola Tandstad - Creator
Adrian Berg - Creator
Kristian Larssen - Helicopter scene assistant animator[4]
Haakon Sørvik - Thanks
BR Toys Moa - Thanks
References
Edit
Community content is available under
CC-BY-SA
unless otherwise noted.