Jurassic World: Dominion Dominates Fandom Wikis - The Loop
Play Sound
Epic Rap Battles of History: Zeus vs Thor is a 2014 comedy brickfilm directed by Forrest Whaley and animated by Sean Willets, Zach Macias, and Forrest Whaley. It was created for the YouTube channel ERB as a video in their series Epic Rap Battles of History, and is set to a rap battle between Zeus and Thor.[1] It, alongside Harry Potter vs Luke Skywalker, are the only videos in the series created using LEGO animation. ERB first became acquainted with Whaley in 2011 when he created a brickfilm intro for a show by ERB member Nice Peter.[2] Additionally, in 2015, Whaley appeared as a live-action extra in the video Deadpool vs Boba Fett. Epic Rap Battles of History - Bonus Battle!.
Cast
Peter "Nice Peter" Shukoff as Zeus
Lloyd "EpicLLOYD" Ahlquist as Thor
Crew
Forrest Whaley - Director, Animator
Sean Willets - Animator
Zach Macias - Animator
Paul Hollingsworth - Production assistance
Peter Shukoff - Executive producer, Writer, Song producer, Song mixer
Lloyd Ahlquist - Executive producer, Writer
Zach Sherwin - Writer
Dante Cimadamore - Staff writer
Mike Betette - Writer
Jose "Choco" Reynoso - Song producer, Song mixer
Epistra - Beat
Award nominations
References to other brickfilms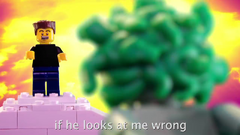 The figure who gets turned to stone by Medusa is that of comedian Dane Cook, as he appeared in the Dane Cook Gets... brickfilming fad. This was a participatory fad in brickfilming that was originally popular in 2009 and 2010 and saw many people creating short films in which Dane Cook meets a grisly end. Zach Macias was one of the original participators in the fad.
References