Days Of Our Pizza is a 2009 comedy brickfilm by Keshen Matus.[1] It is about a pizza delivery boy who finds himself unwillingly roped in to a love triangle.[2] It parodies soap operas, and is titled in reference to
Days of Our Lives
.
Plot
A pizza man arrives with his delivery to the household and knocks on the door. He is greeted by a woman who pulls him inside with a panic. As the Delivery Boy reads of the reciept for the pizza, the woman urges him to be silent as she throws him on the couch. She then goes on to explain that her ex-lover, Fabrizzio, will kill the Delivery Boy if the two are seen together. She expresses her emotions to the Delivery Boy, telling him that despite loving him they may not be able to be with each other any more. All the while the Delivery Boy is just asking for his money. It is at this point when the woman refers to the Delivery Boy as "Martinez", that Fabrizzio enters.
After antagonizing the Delivery Boy, who is still waiting for his payment, Fabrizzio tries to win back the woman by reminiscing of the good times they spent together. Girard, the woman's father then enters, who after explaining how he did not die, goes on to threaten Fabrizzio and tell him that if Martinez and his daughter are in love they should be together. Hearing this the woman retaliates and decides that her and Fabrizzio are still madly in love, as the Delivery Boy once again asks for payment.
Geraldo, a night in shining armour, then arrives and as he draws his sword, tells Fabrizzio that their time has finally come to have a fight to the death. Fabrizzio then takes out a pistol and shoots Geraldo. The woman, impressed by Fabrizzio's feat of strength, swoons; while her father suffers another heart attack. The Delivery Boy then decides he has had enough and leaves, revealing that the whole scene was a ploy to get the pizza for free.
Awards
Days Of Our Pizza was nominated for four awards in the 2009 BiMAs, and won two. The Best Vocal Performance award was for Keshen's role as Fabrizzio. The film was nominated for Best Ensemble Cast, even with all characters being voiced by Keshen.
Year
Competition
Category
Result
2009
Bricks in Motion Awards
Best Film
Nominated
Best Screenplay
Won
Best Vocal Performance
Won
Best Ensemble Cast
Nominated
Stage adaptations
Days Of Our Pizza has been adapted for stage plays multiple times, as can be seen here, here and here. Adaptations of the film have been met with the approval of Keshen.[3]
Good Cop, Batman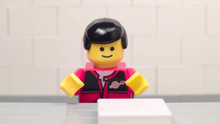 On April 4, 2010, Keshen released a short semi-sequel to Days Of Our Pizza, titled Good Cop, Batman. In this film, the pizza delivery boy is questioned by police over his role in the death that occurred at the house he was delivering pizza to. Good Cop, Batman was on the shortlist for the cancelled 2010 Bricks in Motion Awards.[4]
Cast

References