Days Of Our Pizza

The pizza delivery boy is accosted by Fabrizzio

Watch now

➤

Directed by
Released
April 8, 2009
Starring

Keshen Matus

Genre

Comedy

Running time

3:26

Language
English
Days Of Our Pizza is a 2009 comedy brickfilm by Keshen Matus.[1] It is about a pizza delivery boy who finds himself unwillingly roped in to a love triangle.[2] It parodies soap operas, and is titled in reference to Days of Our Lives.
Days Of Our Pizza was nominated for four awards in the 2009 BiMAs, and won two. The Best Vocal Performance award was for Keshen's role as Fabrizzio. The film was nominated for Best Ensemble Cast, even with all characters being voiced by Keshen.
Year
Competition
Category
Result
2009
Bricks in Motion Awards
Best Film
Nominated
Best Screenplay
Won
Best Vocal Performance
Won
Best Ensemble Cast
Nominated
Stage adaptations
Edit
Days Of Our Pizza has been adapted for stage plays multiple times, as can be seen here, here and here. Adaptations of the film have been met with the approval of Keshen.[3]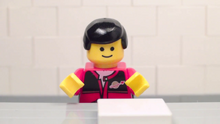 On April 4, 2010, Keshen released a short semi-sequel to Days Of Our Pizza, titled Good Cop, Batman. In this film, the pizza delivery boy is questioned by police over his role in the death that occurred at the house he was delivering pizza to. Good Cop, Batman was on the shortlist for the cancelled 2010 Bricks in Motion Awards.[4]
Cast

References
Edit
Community content is available under
CC-BY-SA
unless otherwise noted.