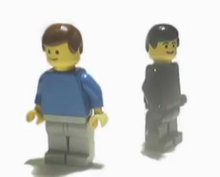 Da Europeans was a brickfilm project by Bert Loos and Roland Szentesi. The idea was that Loos and Szentesi would take turns animating a series of brickfilms in which they play themselves on an adventure where they would meet many other brickfilmers around Europe (and eventually other parts of the world, if the project had gotten that far). Though the project was not fully realised, what was released was well regarded, and even spawned a recurring in-joke in brickfilming.
Da Europeans Part I

Rolz finds someone in his house

Watch now

➤

Directed by
Released
Starring

Roland Szentesi
Bert Loos

Genre

Comedy

Running time

2:00

Language
The first installment of Da Europeans was animated by Roland Szentesi in a day and released on October 28, 2005.[1] Afterwards, Szentesi and Bert Loos set up a website and a blog for the project, and started a thread on Brickfilms.com for European members to put their names down if they wanted to appear in future installments.[2]
Plot
Rolz enters his house and sees someone sitting in a chair. He asks who it is and the person turns around, revealing himself to be Bert, Rolz' friend. Rolz asks why Bert is in his house, and Bert convinces him that he lives there too. Rolz' house only has one bed, so they argue over who is going to sleep on the couch.
The voice of God is heard complaining that Rolz and Bert aren't funny any more so he will have to banish them off the face of the earth, and the pair run away in terror.
Cast

Crew

Da Europeans 2 and Part I remake

[

edit

|

edit source

]
In 2006, Bert Loos began animating the second installment of Da Europeans. A brief trailer for Da Europeans 2 was released on April 8, 2006.[3] However, Loos and Szentesi wished to change the villain, as having God be the villain was deemed to be offensive. An introduction to part 2 had been filmed with the figures clearing up the change of villain to the audience, but Loos and Szentesi disliked the fourth-wall breaking style so, with half the footage of Part 2 shot, Loos began animating a remake of Part 1 as well.[4]
By 2007, animation was continuing on-and-off but motivation to complete the project was dwindling, as it was deemed to be too large and had no end in sight. On May 20, 2007, Szentesi announced that the project had been cancelled, but also that they would probably still finish the remake of part 1 and release the footage of part 2 eventually.[5]
Motivation to release what had been filmed was helped by "Night Owl" seeing it and reacting very positively. The remake of part 1 and the amount of part 2 that was completed were combined into one, and commentary segments were interspersed to help explain unfinished scenes and what would have happened if the project was fully realised. This was released as Da Europeans: The Unfinished Project on November 12, 2007. In spite of it being an unfinished project with commentary sections, this release was well received as a film in its own right.[6]
Da Europeans: The Unfinished Project

[

edit

|

edit source

]
Da Europeans: The Unfinished Project

Bert and Rolz about to go underground

Watch now

➤

Directed by
Released
Starring

Roland Szentesi
Bert Loos

Genre
Running time

8:00

Language
Plot
Rolz enters his house and is surprised to find Bert inside. Bert explains that he fears for his life after angering an important person on Brickfilms.com by posting lots of spam. He says they call him "The Big Old Guy" (who is not God). Rolz says Bert cannot stay as he only has one bed, but soon lets him have the couch. The Big Old Guy's voice is heard promising to kill Bert and his new companion, so the pair flee.
Bert and Rolz leave Hungary and fly to the Netherlands, where they decide to go hide out in Bert's house. They open a secret underground tunnel and go through it, but it just brings them back to the surface. They then enter Bert's house through the door. Once inside, a ninja comes through the window to attack them, but a piece of the ceiling falls on him. They begin to get settled in, but a piece of the ceiling falls on Rolz.
Bert awakens Rolz in a alley, where he has brought him to hide out. A man emerges from a hatch in the ground and Bert and Rolz attack him, as he tries to tell them he is fellow Dutch brickfilmer, Stefan van Zwam.
Cast

Crew

Both releases of Da Europeans include a joke involving the camera zooming in on the faces of Bert and Rolz while the song "Love Is in the Air" by John Paul Young plays. After the release of Da Europeans: The Unfinished Project, this format began to be copied, either in a parody of Da Europeans or as an actual indication of two characters falling in love. Some of the notable films that feature the "Love Is in the Air" gag include:
"Everyone knows that in a brickfilm, when two characters experience love at first sight, you're meant to play "Love Is in the Air"!"
- Pedant in Sam and Stinky Fall in Love
Community content is available under
CC-BY-SA
unless otherwise noted.