Crispy Cheeser
Crispy Cheeser & Finkle George flee
Watch now

➤

Directed by
Released
July 7, 2004
Starring

Ryan Barker

Jeremy Schaulin-Rioux

Genre
Running time

2:11

Language
English
Crispy Cheeser, variably known as The Continuing Adventures of Crispy Cheeser with Finkle George Adventure 39: Bringing Up Baby[1] and The Adventures of Crispy Cheeser: Where the Sharks Are!,[2] among other titles, is a 2004 surreal slapstick comedy brickfilm by Jeremy Schaulin-Rioux and Ryan Barker.[3]
Crispy Cheeser and Finkle George are chased down the street by a shark. They decide to split up and the shark follows Crispy. With the shark continuing to gain on him, he calls out for Finkle George, but receives no response. It is revealed that Finkle George has reached a tropical island and is relaxing while being tended to by several servants. He lets out a chant and throws a goblet, which somehow lands back on the street where Crispy is being chased. Crispy trips on the goblet and the shark jumps at him. The film ends on a cliffhanger regarding his fate.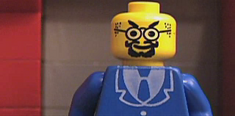 An "exciting conclusion" for the film was released later in the month.[4] In this continuation, titled as Episode 40: Burgertown Blues, the shark eats Crispy Cheeser. A sinister-looking man whom Crispy had passed observes the gory scene as ominous music plays. The credits jokingly state that "Crispy Cheeser and Finkle George will return in: Double Trouble 2: The Pope Slips on a Banana Peel".[5]
Ryan Barker as Crispy Cheeser
Jeremy Schaulin-Rioux as Jim the Sound Guy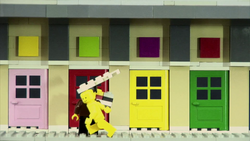 The film is referenced in the 2015 brickfilm Paragraph by Steffen Troeger and Hendrik Denkhaus, in which Finkle George is chased down a corridor by a shark, mimicking the opening shot of Crispy Cheeser.
Community content is available under
CC-BY-SA
unless otherwise noted.