Contest Without Voices
Host(s)
Location
Start Date
April 30, 2018
End Date
June 17, 2018
Entries

39

Winner(s)

Dog
by "Dalholtern"
Whitecap
by Aaron Williams
SOLD
by "Legotwins' ANIMATIONS"
Contest Without Voices (French: Concours Sans Voix), also referred to as Silent Contest and Without Voices Contest, was a brickfilming competition held officially by Brick à Brack. The goal of the contest was to create a brickfilm featuring no dialogue.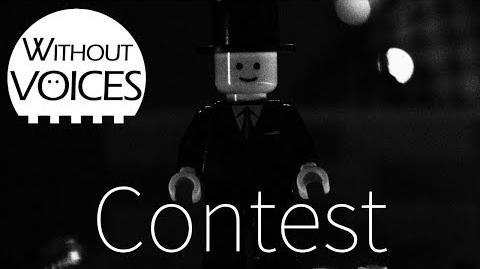 The Contest Without Voices was announced on Brick à Brack by Théo Aron on April 30, 2018;[1] just three days after the results of the eighth 8x8x8 were released. Aron also created a brickfilm to announce the contest and explain some of the rules, with versions in both French and English. Spoken words were not allowed, and the only titles allowed were the title of the film at the start and the credits at the end. Subtitles and vocals in music were also not allowed. Sound effects, instrumental music, and non-verbal vocal sounds were allowed. The deadline was June 17. The contest received 40 accepted entries,[2] but one was deleted before the judging took place, which left 39 eligible entries.[3]
The jury consisted of "Bapt90", Théo Aron, "Max_LG", "Weasel"/"Ozone Studios", "YanleJedi", and Maxime Baconnais. Results were released on July 5.
Prizes were provided by The LEGO Group, via Brick à Brack's status as a Recognized LEGO Online Community. They consisted of 21310 Old Fishing Store for first place, 42077 Rally Car for second place, 10715 Bricks on a Roll for third place, 31075 Outback Adventures for fourth place, and 41598 The Flash for fifth place.[4]
Community content is available under
CC-BY-SA
unless otherwise noted.