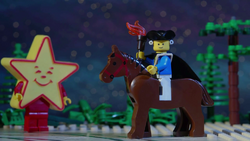 The Carl's Jr. Philly Cheesesteak Burger campaign was a series of three commercials for the fast food chain Carl's Jr., created with LEGO stop-motion and released online in August 2010.[1][2] The films advertise the Philly Cheesesteak Burger, and so all relate to Philadelphia in some way. The commercials were produced through blip.tv,[3] and were not produced in official association with The LEGO Group. The YouTube uploads of the films are no longer online, but the films are available on the Vimeo account of the director, Karni Baghdikian.[4]
A parody of the Philadelphia-based film Rocky, in which the boxing champ becomes very hungry during his training.
A comedic retelling of historical moments featuring the founding fathers of America, in which they crave for a combination of a burger and a Philly cheesesteak.
A monster attack on Philadelphia is thwarted when the monster's hunger is satisfied.
Though not actually a film in the Carl's Jr. Philly Cheesesteak Burger campaign, the same team produced a commercial for the Facebook page of Hardee's (a name used by Carl's Jr. in some regions) and their mobile app Superstar Rewards.
Carl's Jr. - Client
blip.tv - Executive producer
Initiative Media - Agency
Instinct Media - Producer
Karni Baghdikian - Producer, Director, Writer
Matt Duggan - Writer
Nancy Parczyk - Lead animator
Musa Brooker - Animator
Rachel Donofrie - Production designer
Austin Wintory - Composer
Rafi Mamalian - Executive producer
Shane Rodack - Executive producer
Bix Pix Entertainment - Animation studio
Pat Lydon - Sound Design, mix & ADR
References
Edit
Community content is available under
CC-BY-SA
unless otherwise noted.