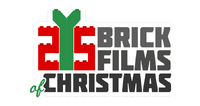 25 Brickfilms of Christmas is a community project coordinated by Michael "Slotborg" Stohr in 2018. It gathered 25 different animators who each created a film for it, with one film being released per day in December to form a brickfilm advent calendar. It was conceived as a spiritual successor to the 2017 community project brickfilm A Brickfilm Christmas.
In October 2018, Michael "Slotborg" Stohr proposed the idea for the community to create a second Brickfilm Christmas film. Christof Muñoz suggested to instead try a different format, and have multiple individual brickfilms created to form a brickfilm advent calendar.[1]
Stohr launched the project 25 Brickfilms of Christmas on October 31, seeking 24 animators in addition to himself to create brickfilms to be released once per day from December 1 to December 25.[2] Relation to the project from the previous year can be seen in that the shared intro for films in the project reuses a small section of music from A Brickfilm Christmas, and features a new logo by the designer of the logo for that project. Additionally, some of the brickfilmers who contributed to A Brickfilm Christmas also contributed to the 25 Brickfilms of Christmas. The playlist of films can be found here.
Santa's Cookie - by Joshua "Plastic Point Productions" Vennetti
The Awesomepants squad in... Christmas Dinner! - by "Awesomepants Films"
Claus Chaos - by Philip "Mistery Studios" Westphal
LEGO Santa Wish List - by "Brick Broadcasting"
All I want for Christmas - by Joshua Nelson
Law and Peace - by "Humbug"
Dog 6 - by "Ozone Studios"
Watch That Snow! - by Henry "Dragon Brick Studios" Thomas
The Delivery - by "Tiny World Studios"
A Hospital Christmas - by "Brickman"
Neon Christmas - by Hudson "Yummy Burrito Studios" Ludy
The Magic Stud - by Nick "OneDouglas" Douglas
'18 - by Christof Muñoz
Meanwhile in November... - by "lotsatoast"
Spiderman's Merry Christmas - by "Wammy"
An Extra Special Christmas Special - by Michael "Slotborg" Stohr
References
Edit