16 Cities - 17 Brickfilmers - One LEGO Set
A shot from Dirk Boettcher's clip
Watch now

➤

Coordinated by
Released
September 18, 2015
Genre

Compilation

Running time

6:35

Language
None
16 Cities - 17 Brickfilmers - One LEGO Set is a 2015 community project brickfilm coordinated by Dirk Boettcher.[1] It features 17 short brickfilms filmed using different copies of the same LEGO set. It is the first completed BrickBoard community project in nine years, following Star Trek: Dawn.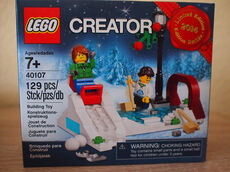 In May 2015, BrickBoard became a Recognised LEGO User Group (RLUG) when Dirk Boettcher became an official LEGO User Group Ambassador for The LEGO Group.[2] The next month, all LUG Ambassadors were sent multiple copies of the limited edition LEGO set 40107 Winter Skating Scene, for their groups to use to create something by combining the sets and then share photos.[3]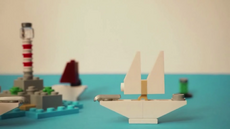 On June 19, Boettcher announced his idea for a community project in which everyone would create a different ≤20 second brickfilm using the set, and they would all be edited into a compilation. Members wishing to participate would send Boettcher the cost of postage and he would then send them two copies of the set (so that the value of the goods was more than the postage). Participants were allowed to include other LEGO elements with the set, or to rearrange the pieces of the set into something new. As the film was for an international project, the clips were required to either feature no dialogue and text or to be subtitled in English. The finished film was to be posted no later than October 1.[4] 16 submissions were received in addition to Boettcher's own clip, and the film was published on September 18 and shared to the RLUG #LEGOWinterSkating Flickr group.
Community content is available under
CC-BY-SA
unless otherwise noted.