Jurassic World: Dominion Dominates Fandom Wikis - The Loop
Play Sound
The 10 Brick Contest was a brickfilming contest hosted by Stefan van Zwam, Christoph Brock and Steffen Troeger on the Brickfilms.com forums in 2004. The aim of the contest was to create a brickfilm using no more than 10 elements (bricks or otherwise) total.
The 10 Brick Contest theme was brought back in 2020 for The 10 Bricks of EASTER contest.
History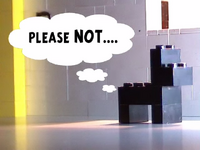 On May 30, 2004, Steffen Troeger released the brickfilm He's coming...,[1] which featured various elements from 1970's LEGO Homemaker sets including a dog made from 5 bricks.[2] When Christoph Brock saw this film, he was impressed by the range of animation that was achieved with the simplistic dog model, and remarked "To push this further, one should perhaps try a "10-bricks-movie" contest."[3] Troeger responded to this idea enthusiastically and proclaimed "this would mean I could animate two dogs".[4] Brock and Troeger began discussing this contest idea along with Stefan van Zwam, with inspiration also being taken from the films 1xY by Errol Elumir and Speed Demon! by Nick Maniatis.[5]
The 10 Brick Contest was announced on the Brickfilms.com forums by Stefan van Zwam on October 18, 2004. The rules stated that entries should use no more than ten elements total throughout, which included not only LEGO bricks but also any other object that may appear on screen and even digital effects. A baseplate and background would not be included in the total element count. Entries were required to be no longer than two minutes and to include a still image at the end displaying all elements visible within the film.[6] The deadline of the contest was November 30, 2004 and it received 27 entries.[7]
Judging and prizes
Judging was handled exclusively through an entrant vote. All entrants were asked to submit a ballot ranking every entry based solely on the category of animation.[5] Anyone who failed to submit a ballot would be disqualified and their film would not appear in the final results.[7]
Prizes were contributed by Steffen Troeger. The prize for first place was the 1974 LEGO Homemaker set 274 Colour T.V. and Chair along with two Homemaker figures. Second place had a choice between either two LEGO Technic figures or two Homemaker figures, and third place would receive the remaining prize.[5] When one of the hosts of the contest, Christoph Brock, won second place, it was decided that the second and third place prizes would be awarded to the entrants in third and fourth.[8]
Results
The entries The 10 Brick Boy by Keiren "Cyclonis" Benjamin and Minifig(ht)s by Alexander "Dead-Eye" Injac were omitted from the results as the directors did not submit a ballot. Also absent is the film A short series of events that transpired upon a rock, one of three entries by Mark "Skudmunky" Williams.[9]
References